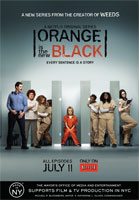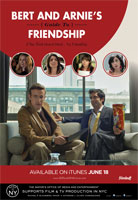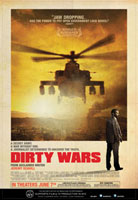 The "Made in NY" Marketing Credit showcases various production that filmed
in the five boroughs. Photos courtesy of MOME.

June 3, 2013 - The "Made in NY" Marketing Credit this month showcases a range of NYC projects, including a new online series.

Set in a women's prison, "Orange Is the New Black" is the latest series from Netflix. A Brooklyn woman's life is turned upside down after she is sent to prison because of her relationship with a drug-runner. All thirteen episodes of the comedic drama will be available for Netflix users to watch beginning July 11.

In Bert and Arnie's Guide to Friendship, an unlikely pair finds friendship after one man learns that the other is sleeping with his wife. The film starts Matt Oberg and Stephen Schneider and will be available from iTunes on June 18.

Dirty Wars, a new film that blurs the line between documentary and fiction, focuses on journalist Jeremy Scahill as he delves into the world of America's covert wars. The films, which won the cinematography award at Sundance, opens in select theatres on June 7.

The "Made in NY" Marketing Credit provides free co-branded advertising to productions that shoot the majority of their projects in the five boroughs. To learn more about the marketing credit, click here.




The marketing credit also extends to subway cards.
Photos courtesy of MOME.