FDNY Urges All New Yorkers to Stay Fire Safe This Holiday Season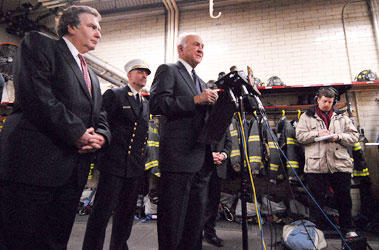 Fire Commissioner Nicholas Scoppetta, Chief of Department Salvatore Cassano and other FDNY officials on December 4 urged all New Yorkers to keep their homes fire safe this holiday season.
"We want everyone to enjoy the holidays, but be mindful of the hazards at this time of year," said Commissioner Scoppetta at a press conference at Engine 65 in Manhattan. "You cannot be too careful."
He noted that some of the leading causes of accidental fires include unattended candles and overloaded extension cords.
"We want to put safety into all the holidays this season," said FDNY Chaplain Rabbi Joseph Potasnik.
Winter Fire Safety Tips
If you have a real tree, keep it watered and away from heat sources, sparks or flames.
Use only UL approved lights and wiring and do not overload connections.\
Do not use damaged light sets or extension cords.
Never leave lit candles unattended.
Never use candles near combustible materials such as curtains, drapes, bedding or cabinets.
Promptly remove all discarded packages and wrappings from the home.
Never attempt to heat your home with the oven (call 311 to report no heat).
Use only UL approved space heaters and keep them away from furniture, bedding, curtains and other flammable materials.
Do not smoke in bed. Make sure all cigarette butts are extinguished before discarding.
Make sure you always have a properly working smoke alarm and carbon monoxide detector on every floor of your home.