Every month, The Young Men's Initiative profiles a man from New York City who is living out the goals of the Young Men's Initiative. These men have demonstrated the grit, guts, tenacity, and responsibility to reach a wide variety of goals. Read their stories below.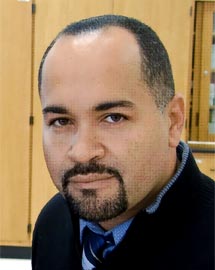 Hector Calderon is the Director of Organizational Learning for the Expanded Success Initiative at the NYC Department of Education
Tell us about where you grew up. What was your life like?
I was born in the South Bronx. I am Dominican, and when I was five years old, my parents took me and my brother to the Dominican Republic—they wanted us to grow up there. They stayed in New York to work, and after seven years we came back to the South Bronx.

I feel like I had a blessed childhood. Growing up in the Dominican Republic, I was allowed to be very imaginative and create a lot of things. Where I lived there weren't many schools, and so the community came together to create a vision for their own school that was really supported by the parents. My first school looked like a handball court, but we created magic in that school.
When I had to go back to the Bronx, the conditions were very different, but I had the love of my parents, who were highly supportive of me. In the South Bronx, I went to a bilingual middle school, IS 187, the allowed me to settle into being in the United States. I only knew a few words of English, but I remember those teachers working really hard with us to get us to learn English.
Then I went to a high school that was ranked as one of the worst in the nation. On the first day of school, three people were killed. There were low expectations--if you showed up most of the time you would get an attendance award or if you passed all of your classes you would be on the honor roll, regardless of your grades. I never dared to go in the bathroom because it was always filled with smoke and you could barely see in front of your face.
My parents panicked and decided that we needed to leave the South Bronx. We moved to Queens, and it was a very different environment. I went to a big comprehensive school with about 5,000 students. I had to learn English really fast because there was no bilingual program. I had to deal with a diverse group of people—the South Bronx was mainly black and Latino people, but in Queens there were also white and Asian students. That helped me learn English really fast. It helped me adjust to the United States and people from different communities.
Why did you become a part of El Puente? What need did you see in the community?
El Puente began in 1982 as a community based organization. I started at El Puente in 1991 as a tutor in a tutoring program that eventually became the El Puente Academy for Peace and Justice, the school we launched in 1993. We started El Puente Academy as an act of self-determination. Many of the schools in the community were failing our young people, so we decided to start our own school. We figured that if you had a creative program that started at 8 AM and went until 8PM, in which young people can participate in learning outside of school such as a drama class during the day or a math course, that model would be really successful, which proved to be the case. We as community came together to unleash the genius of our community. We created a learning environment that could meet the needs of our learning environment in body, mind, and spirit in the community. As one of the founders of El Puente, Luis Garden-Acosta, would say "If it takes a village to raise a child, why not help raise the village".
Did you ever imagine it would be such a success and recognized on a national level?
I think that you have to believe in the inherent genius of a community. We felt that if we could get our people together, then we could collectively imagine what the school should be like and what kind of learning experience we wanted our students to have. I remember Frances Lucerna, founder and founding principal telling the students, "You do not come here to study history, but to make history". We developed our school as a testimony to the power of community. Most of us had not been trained as teachers—there were a lot of people who didn't think we were going to make it because we weren't trained. But we all went back to school to get our certification—I went back to school to get my teaching certification and then later on my principal certification. We believe that if we stay true to our four core principles—creating community, loving and caring, mastery, and peace and justice—that we could create a very special place and a space where our young people would flourish. We knew it would be a success locally, but nationally we had no idea. We created the first human rights high school in the nation.
What is your role as the Director of Organizational Learning for the Expanded Success Initiative?
The Expanded Success Initiative (ESI) is a component of the Young Men's Initiative that aims to increase the number of Black and Latino young men who graduate high school prepared to succeed in college and careers. As the Director of Organizational Learning, my job is to harness the collective knowledge of our schools so that we can learn what strategies work for Black and Latino young men. I spend a lot of time thinking about systems, forums, and technological strategies to unleash the learning of our schools and to implement our theory of action around school culture, youth development, and academics. The work that I do is to go out there to the schools at to see what they are doing, then create opportunities for schools to learn from each other. We look at administrators, teachers, students, and parents to see what we can learn from them to create a college-readiness framework in schools that supports Black and Latino young men.
Why do you think the work of ESI is important and what effect do you think your work has on the lives of students, specifically Black and Latino young men?
The work is vital. I fundamentally believe that schools are an ecosystem of academic, physical, and spiritual possibilities. Young black and Latino males are the most vulnerable young people in the system. So few of them are graduating high school college and career-ready and the work that we are doing revolves around the issue of finding out how we support black and Latino males. I believe that if we figure it out for them, we can figure it out for the entire system. Young women have their own set of issues that need to be addressed, but we are starting our focus on black and Latino young men as part of the initiative. The work that we are doing is important for the city and the entire nation because the idea of the achievement/opportunity gap is an issue that we are all trying to grapple with. If we engage in power conversations and genius of the school communities then we can create something special where we know how to solve these issues.
What is the best part about the work you do?
The best part is going out to schools. Every time I go to a school it is like a different universe, and I really feel the energy of the people I am around, doing the work and learning first-hand what is happening in schools. Paul Forbes who is Director at ESI, and I are constantly going out to schools and learning about what schools are doing, and then we share that information with other schools. We get to be witnesses to history in the making. I also enjoy having the opportunity to talk to experts in the field and use their knowledge to inform our work. It feels to me like we are not just an initiative, but we are a movement for the liberation of our young people. And by liberation I mean the process of becoming fully human. Schools are very special places from which we can learn how to cultivate the humanity of our young people, and give them real skills to be college and career ready and imagine the world as it could be.
I would say to them that they come from a long line of people who have struggled and fought for them to take their place in history. I would tell them not to underestimate the power of commitment to overcome all difficulties. Inside of them lives a world of ideas and creativity that is worth sharing with the world. I believe that they have a Divine, Numinous Alchemy (DNA) and that they were made for a purpose. I want to say do you, but do that in context of community. Understand your role as manifesting everything you want to see in the world, but also know that you have a responsibility to give back and contribute to the community you came from. Eventually, I realized that I had the power to define myself, that if I knew my story, I knew my power. Know your story, so that you can claim your power, so that you can help build a world that will serve all of us as a people and as a nation.