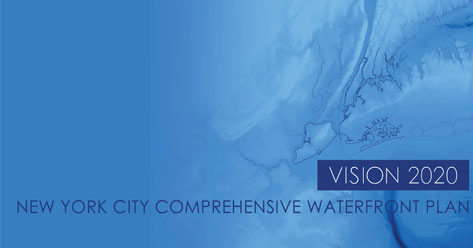 Click HERE to view the Final Comprehensive Waterfront Plan: Vision 2020 document (in PDF)
Very large file. Please visit here to download by chapter.
Vision 2020, released in March 2011, builds on the success of City Planning's original 1992 waterfront plan by reasserting commitments to goals such as open space and the working waterfront, but goes a step further by proposing ways for New Yorkers to get onto and into the water itself. In addition to programmatic, citywide recommendations, the Plan includes site-specific recommendations for every stretch of waterfront throughout the five boroughs. The recommendations were crafted after a year of extensive public outreach, including 10 public meetings in all five boroughs and discussions with thousands of community and waterfront stakeholders. The eight main goals of the plan are:
Expand public access to the waterfront and waterways on public and private property for all New Yorkers and visitors alike.
Enliven the waterfront with a range of attractive uses integrated with adjacent upland communities.
Support economic development activity on the working waterfront.
Improve water quality through measures that benefit natural habitats, support public recreation, and enhance waterfront and upland communities.
Restore degraded natural waterfront areas and protect wetlands and shorefront habitats.
Enhance the public experience of the waterways that surround New York—our Blue Network.
Improve governmental regulation, coordination and oversight of the waterfront and waterways.
Identify and pursue strategies to increase the city's resilience to climate change and sea level rise.
To learn more about Vision 2020 and the extensive public outreach process, visit www.nyc.gov/waterfront.