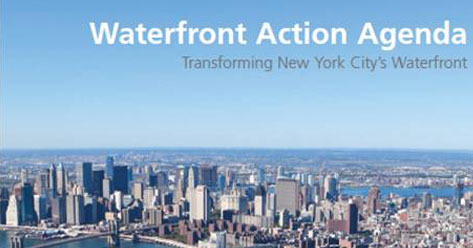 Click HERE to view the Mayor's Waterfront Action Agenda (in PDF)
The Waterfront Action Agenda is the three year implementation component of Vision 2020: New York City Comprehensive Waterfront Plan. It establishes a set of actions for realizing our waterfront and waterways as a world-class destination, a globally competitive port, and a rich and vital natural resource that draws all New Yorkers to its edge and onto the water. 
The Mayor's Agenda includes 130 specific, high-priority projects that demonstrate the City's commitment to investing in our waterfront's transformation. Each project is organized under one of the eight goals of Vision 2020, identifies the dollar amount allocated to the project, the City agency leading its implementation, and the date by which the project will be undertaken.
The Agenda was developed in partnership with City agencies and reflects the input of hundreds of citizens and governmental partners. Under the advisement of the Waterfront Management Advisory Board, the City will track progress through regular updates and an annual progress report.
To learn more about the Action Agenda, visit www.nycedc.com/waves.