New York City Global Partners Summit on "Governing a Diverse City in a Democratic Society," January 18-19, 2007
On January 18-19, 2007, the newly named New York City Global Partners held its inaugural international summit, "Governing a Diverse City in a Democratic Society."  This is the fifth summit of its kind, formerly sponsored by the Sister City Program of the City of New York.  A photo slideshow of Summit events can be viewed here.  Delegates from 26 cities around the world attended the event, which was co-sponsored by Columbia University and the New York Immigration Coalition, to learn about New York City's innovative approaches to governing its diverse population and its strategies for success.
Target cities for this summit were identified using the following criteria: democratic government, foreign born residents, advanced economy, cultural links with New York City and centers of finance. New York participants included leaders from all boroughs and City departments as well as community-based agencies identified in consultation with the Mayor's Office of Immigrant Affairs and the non-governmental New York Immigration Coalition.
International delegations consisted of public officials working in areas such as Law Enforcement and Security, Education, Social Services, Health and Technology.  The summit provided an opportunity to bring these global leaders to New York City to share common concerns with their New York City counterparts, and to exchange ideas and learn the ways in which our city is working with its diverse community to shape a safe, vibrant and productive community.
The summit presented New York City's successful initiatives in several critical policy domains including Law Enforcement and Security, Education, Social Services, Health and Technology. In addition, the summit brought leaders of other global cities together to share common concerns, exchange ideas and establish working relationships with their counterparts in other global cities.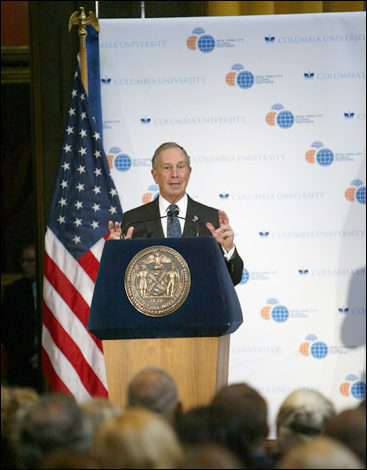 New York City Mayor Michael Bloomberg welcomes delegates to the conference and discusses the city's involvement with immigrant communities.
On the first day of the summit, participants attended a forum at Columbia University and heard remarks from David Dinkins, Columbia President Lee Bollinger, and keynote address by Mayor Michael Bloomberg, along with panelists from the education, health care and social services sectors.   During lunch at Columbia's Casa Italiana, delegates were addressed by NYPD Commissioner Ray Kelly on the topic of creating public safety for all New Yorkers. Afternoon workshops provided an opportunity for international and New York City delegates to break out into smaller session groups to further discuss their concerns and best practices.  The evening reception was held at The American Museum of Natural History, where participants had a chance to mingle, relax and enjoy a night of great food and entertainment.  The Master of Ceremonies was Garrick Utley, with greetings by Marjorie B. Tiven and Gary Hattem.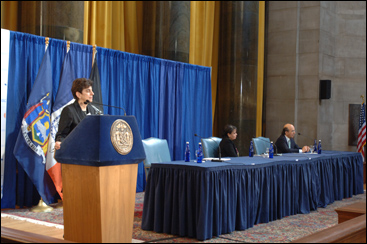 Columbia University Professor Ester Fuchs (left) moderates the panel discussion, "Making Education and After-School Programs Work for New York City's Immigrant Communities" with Chancellor of Education Joel Klein and Commissioner of Youth and Community Development Jeanne Mullgrav.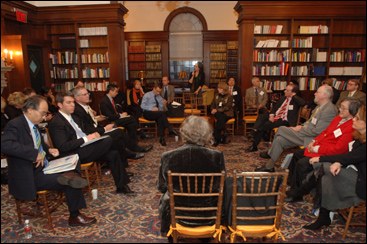 Conference delegates discuss various topics at an afternoon workshop session.
The second day of the Summit began with a tour of the "311" information call center.  The delegates had an opportunity to hear from Commissioner Paul Cosgrave on the impressive task of providing information and answering questions for all New Yorkers in 170 languages, and many were eager to bring this initiative back to their own cities.   Afterwards, delegates headed to Harlem to visit the East End Job Center, where they toured the facilities and learned about its innovative approach to providing social services to low-income New Yorkers.  The Summit closed with a lunch at Sylvia's Restaurant in Harlem with an address by Chung-Wha Hong, Director of the New York Immigration Coalition, who spoke about the organization's work in partnering with the city.  Marjorie B. Tiven, Acting President of NYC Global Partners, closed the summit by recapping the days' events and thanking everyone for participating in and contributing to this exciting event.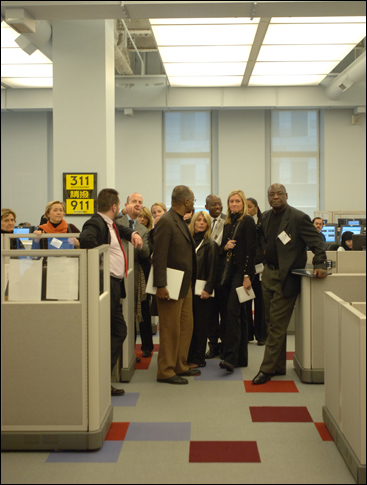 Site Visit: International delegates tour New York City's 311 Call Center.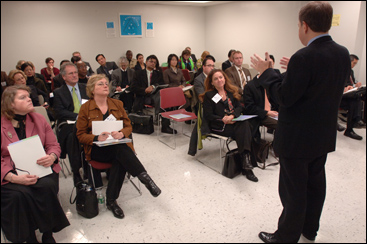 Site Visit: Seth Diamond, Deputy Commissioner of the Human Resources Administration, explains the agency's East End Job Center.
Other highlights of the Summit include:
Remarks by Joel I. Klein, Chancellor of the Department of Education, Jeanne B. Mullgrav, Commissioner of the Department of Youth and Community Development, Verna Eggleston, Commissioner of Human Resources Administration, and Thomas R. Frieden, Commissioner of the Department of Health and Mental Hygiene.

Meetings with Mayor Bloomberg and three participating international mayors

Tours of Central Park, Lower Manhattan and Harlem

Delegate breakfast held in the Low Library Faculty Room

Special performance by Broadway stars at the gala dinner event

Distribution of an informational binder with all necessary information on summit activities, New York City agencies, and contact information for delegates

A registration and welcome reception to greet attendees, with a welcome bag filled with maps, snacks, umbrella and NYC Global Partners mug.
The "Governing a Diverse City in a Democratic Society" Summit is the fifth such international summit of Mayor Michael R. Bloomberg's administration. Past Summit meetings include: "Rebuilding International Tourism" in February 2003; "Meeting the Challenges of Terrorism and Crime" in October 2003; "Transforming Government through Technology" in June 2004; and "Strategies for Public Art" in February 2005.
New York City Global Partners is located in the office of the New York City Commission for the United Nations, Consular Corps and Protocol. The Commission is the liaison between New York City and the diplomatic community, the United Nations, and the US Department of State.
New York City Global Partners acknowledges the generous support of Deutsche Bank and L'Oreal for this Summit.