July 8 – August 23, 2013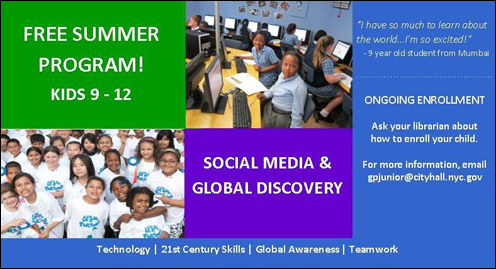 ABOUT THE PROGRAM
In partnership with the New York Public Library, NYC Global Partners will offer a 7-week summer program to library branches in New York City and schools in Johannesburg, Melbourne, Mumbai, Rio de Janeiro, and Sydney.  Students collaborate on the same curriculum, Living Cities, which focuses on global awareness and environmental sustainability in cities around the globe. The curriculum consists of four activities: in-class research and discussion, online exchanges with other global classrooms, development of multimedia projects, and field trips. Students will share their learning with their international peers through blog posts, discussion forums, and video chats.  The program will culminate with a multimedia project in which students promote innovative green spaces in their communities through podcasts, websites, documentary videos and other digital media. Additional highlights will include visits to local energy-efficient buildings and community gardens. At the end of the summer, students will participate in an exhibition to present their work and receive recognition for their achievements as global citizens.
Program Goals
Project-based learning and online communication reinforce vital literacy, technology, and critical thinking skills needed for success in today's interconnected world.  Global Partners Junior develops interest in diverse cultures, encouraging our urban youth to think beyond their city blocks. Projects teach students to take pride in their local communities and find innovative ways to make their cities stronger, applying what they have learned from their international peers. As they participate in international discussion, students also gain content knowledge of environmental sustainability.  
How It Works
Global Partners Junior will run for seven weeks from July 8 to August 23. Students must commit to attend program activities two to three times per week for a weekly total of four to six hours. Schedules will vary by library branch. Participation in this unique program is free for all students.   For more information and to enroll, contact the children's librarian at the following participating branches:
The Bronx
Belmont Library 
610 E. 186th Street
Bronx, NY 10458
(718) 933 6410
Bronx Library Center
310 East Kingsbridge Road
Bronx, NY 10458
(718) 579-4244
Grand Concourse Library
155 East 173rd Street
Bronx, NY 10457
(718) 583-6611
Mosholu Library
285 East 205th Street
Bronx, NY 10467
(718) 882-8239
Mott Haven Library
321 East 140th Street
Bronx, NY 10454
(718) 665-4878
Westchester Square Library 
2521 Glebe Avenue
Bronx, NY 10461
(718) 863 0436
Manhattan
Hamilton Fish Park Library
415 East Houston Street
New York, NY 10002-1197
(212) 673-2290
Inwood Library
4790 Broadway
New York, NY 10034-4916
(212) 942-2445
Seward Park Library
192 East Broadway
New York, NY 10002-5597
(212) 477-6770
Staten Island
Richmondtown Library
200 Clarke Avenue
Staten Island, NY 10306
(718) 668-0413
St. George Library Center
5 Central Avenue
Staten Island, NY 10301
(718) 442-8560
Todt Hill-Westerleigh Library
2550 Victory Boulevard
Staten Island, NY 10314
(718) 494-1642