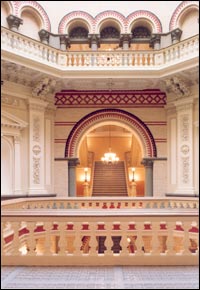 Photography by Michael Rogol, Courtesy of
the Art Commission of the City of New York.


The Old New York County Courthouse, better known as Tweed Courthouse, is architecturally one of New York's greatest civic monuments. Built between 1861 and 1881, it is the product of two of New York's most prominent 19th-century architects, John Kellum and Leopold Eidlitz. Tweed is a designated New York City landmark and sections of the interior are designated interior landmarks as well. The courthouse has retained its original spatial arrangement, encompassing 30 monumental courtrooms and a central rotunda. Their immense cast-iron structural and decorative elements are unparalleled in any American public building.

In December 1861, John Kellum won the commission to build the "New County Courthouse." Kellum designed a rusticated basement, monumental Corinthian portico, and a dome, which was never built. On the interior, Kellum created neoclassical-style courtrooms and offices as well as the first two floors of the rotunda. After Kellum's death, the City commissioned Leopold Eidlitz in 1874 to complete the interior and design a new south wing. Rather than following Kellum's neoclassical style, Eidlitz incorporated elements of Romanesque architecture, including on the interior polychromed brick and richly-carved stonework as well as a spectacular laylight over the octagonal rotunda-one of the most impressive public spaces in New York City.

Tweed Courthouse is the legacy of Tammany Hall boss William M. Tweed, who used the construction of the building to embezzle large sums from the budget. Boss Tweed was tried in 1873 in an unfinished courtroom in this building and was convicted and jailed. After the Tweed Ring was broken up, work stopped on the building from 1872 to 1876. Construction progressed slowly after the Tweed years, and it was not until 1881 that the building was finally completed.

In 1999, a comprehensive restoration began to return Tweed to its original grandeur. The front staircase, which had been removed in 1940 to widen Chambers Street, was reconstructed. The restoration also included the reapplication of the historic paint scheme, which includes faux brick painting and gold leaf appliqué.

Today, Tweed is home to the Department of Education.

For more information on tours, to volunteer or to help support the City Hall Conservancy, please call 311.