Mayor Michael R. Bloomberg, Police Commissioner Raymond W. Kelly and Chief Policy Advisor John Feinblatt today announced that according to Center for Disease Control data the percentage of teens in New York City carrying a handgun is lower than in any major U.S. city. The Federal data also shows teens carrying guns in the city reached an all-time low of 2.3 percent, which is less than half the overall national average of 5.1 percent and a decline of 36 percent since 2001. The City also released a report showing murders in New York City during 2012 fell by more than 19 percent from 2011 (515 to 419) and that 96 percent of that decline can be attributed to fewer black and Hispanic murder victims compared to 2011. Through the first quarter of 2013, murder is down another 30 percent against last year and shootings are also down 24 percent. Last year ended with record low numbers of both murders and shootings. The Mayor made the announcement at the 81st Police Precinct in Bedford Stuyvesant, Brooklyn where he was joined by clergy leaders, police commanders and personnel and family members of victims killed by guns in New York City.
"Too often, young people are the innocent victims of gun violence, and too often, young people are also the ones doing the shooting," said Mayor Bloomberg. "This is why we must continue to work to take guns off our streets because the more we can do to keep guns out of the hands of young people, the more lives we can save. And we see the positive results with half as many teens carrying a gun in New York City compared to teens in the rest of the country."
"The CDC data is the latest confirmation of the success we've had in keeping guns off the street – and while it's very encouraging, the NYPD has no intention of resting on its laurels," Commissioner Kelly said, adding that "Operation Impact with its high visibility, proactive policing has helped drive crime down, as Operation Crew Cut's calculated attention to and successful interruption of violent street crew rivalries has reduced shootings and murders."
New York City Youth Carrying Guns At All-Time Low
The Center for Disease Control's Youth Risk Behavior Surveillance shows that, compared to other major cities, significantly fewer New York City teens carry guns; in 2011 a total of 2.3 percent of youth in New York City carried a gun compared to 5 percent in Dallas, 7.5 percent in Washington, DC and 5.1 percent nationally.  This holds true across genders, where the difference is more stark: 3.8 percent of male New York City students, 9.1 percent in Dallas, 12.5 percent in Washington DC and 8.5 percent nationally.  Among females, New York City teens carried guns less frequently than female teens in other cities and at half the rate of the national average.
Overall, the most recent data shows that the percentage of New York City teens carrying a gun in the past 30 days has dropped by more than 36 percent compared to 2001 data.
The 2011 Youth Risk Behavior Survey covers September 2010 through December 2011 and includes data collected from students in grades 9-12 via national, state and large urban school district surveys.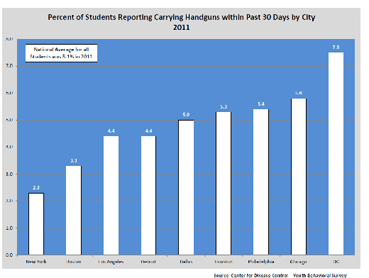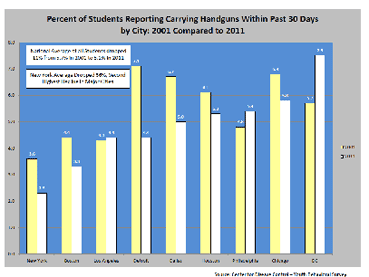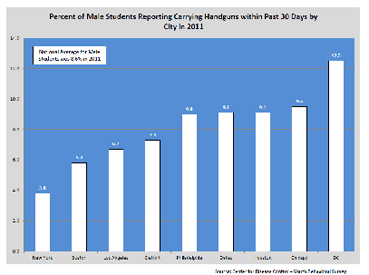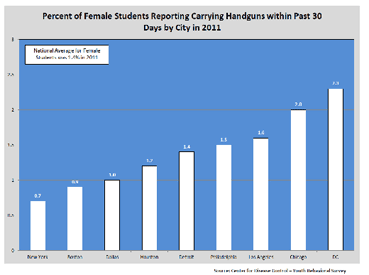 Murders in New York City Drop More Than 19 Percent from 2011 to 2012
The 2012 report on Murder in New York City released today provided detail on the record low 419 homicides in 2012 – the previous record low was 471 homicides in 2009. The number of murders has dropped by 19 percent in comparison to 2011 and declined by 35 percent since the start of the Bloomberg Administration. The report can be found at www.nyc.gov. Some of the findings include:
Black New Yorkers, who make up 23 percent of the City's population, represent 60 percent of those murdered.
There were 96 fewer murder victims in 2012 compared with 2011.
There were 92 fewer black and Hispanic murder victims in 2012 compared with 2011.
Nearly 40 percent of all victims were male blacks aged 16 to 37.
Of murder victims, 16 percent were women.
More than 90 percent of murder suspects were black or Hispanic.
54 percent of Asian and white suspects were involved in domestic incidents.
93 percent of the murder suspects were male.
87 percent of the murder suspects had at least one prior arrest.
Nearly four out of five murder suspects were 16 to 37 years old.
New York City's successful efforts to reduce the number of teens carrying handguns are rooted in successful policing initiatives and strong gun laws. Today, because of efforts by the Bloomberg administration to help pass a law that created a 3 ½ year mandatory minimum sentence for illegal possession of a gun, New York State law carries one of the nation's stiffest penalties for illegal possession of a handgun.
Proactive policing is also driving murders and shootings to record lows. The enhanced enforcement measures by the NYPD including Operation Impact and more recently Operation Crew Cut have contributed to the declining rates of gun possession among teens.  Operation Impact was started in 2003 in order to reduce crime by concentrating the department's newest officers, paired with experienced supervisors in those areas that had experienced spikes in crime. The flexibility of Operation Impact allows the NYPD to address crime and establish or disband new impact zones as needed.
Another way the police department is accomplishing crime reduction is through an initiative called Operation Crew Cut. Thirty percent of shootings in New York City can be traced to so-called "crews."  These are loosely affiliated gangs, mainly composed of young teens, who are responsible for much of the violence in and around public housing and elsewhere.  To tackle this issue the NYPD introduced Operation Crew Cut which included expanding the size of the Gang Division, providing extra resources to address street conditions in those precincts most affected by crews, and dedicating investigators to review social media. The results have been remarkable as seen in the reduction in shootings and murders by 24 percent and 30 percent so far this year. 
The Mayor was joined at the announcement by clergy members from the NYPD Brooklyn Clergy Coalition and New Yorkers who have had family members murdered by those carrying guns. Among those joining the Mayor at the 81st Precinct was Dionne Gordon, whose brother Maurice was shot and killed outside his home in Jamaica, Queens. Larry and Renee Hill, whose 15- year-old son Larry was shot in the back on a basketball court. Robin Lyde, whose 21- year-old son Benny was killed walking into his house in Crown Heights. Shanee Johnson, whose 17- year-old son was killed at a party in Springfield Gardens. And Denise Peace, whose daughter Zurana Horton was shot in the chest and killed while shielding her daughter from a hail of bullets outside a public school in Brownsville.
Earlier in the day Mayor Bloomberg met at City Hall with Cleopatra and Nathaniel Pendleton from Chicago, the parents of Hadiya Pendleton, a 15-year- old honors student who performed with her high school band at President Obama's inauguration this past January. Two weeks later, while she was with her friend in a park, she was shot and killed by a teenager with a gun.