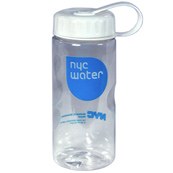 What better way to show your commitment to good health and the environment – and to make a fashion statement, too, than with a shiny, custom NYC Water bottle .
Available for purchase at CityStore, New York City's official shop, these 22-ounce reusable containers make it easy to fill up all around town. In addition to their award-winning good looks, the bottles are made of BPA-free plastic.
They cannot be put in the dishwasher or microwave – but are great for handling fresh, clear NYC Water.