TIER I & II (ARTICLE II & IIA)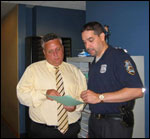 If you accept another position with the City or State of New York (or any of its political subdivisions) that entitles you to membership in another city or state retirement system, you may be eligible to transfer your Police Pension Fund membership to that system.


Before you leave your current position, you should discuss your situation with representatives of both retirement systems. This is important since your rights and benefits under the new system may not be the same as under the Police Pension Fund.