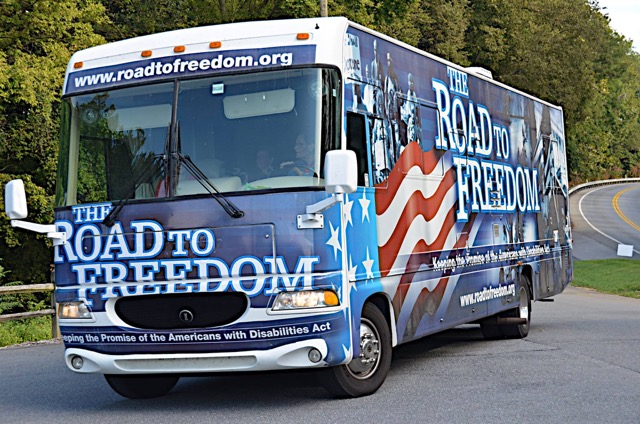 Photo courtesy of the ADA Legacy Project
Catch the bus when it comes to your neighborhood! The ADA Legacy Bus will be visiting the boroughs of New York City on July 13 and 14, 2015, see schedule below. This rolling exhibition is designed to raise awareness nationwide about the 25th Anniversary of the Americans with Disabilities Act (ADA) on July 26, 2015.
Presented by The Viscardi Center, with the support of the Christopher & Dana Reeve Foundation and Con Edison and in coordination with the Mayor's Office for People with Disabilities (MOPD), the ADA Legacy Bus will stop for meet and greets hosted by the Queens, Brooklyn, Bronx and Staten Island Borough President Offices to educate and generate excitement about ADA25NYC.
The bus tour began in Houston on June 25, 2014, and will end in Washington on July 26, 2015, exactly 25 years after President George H.W. Bush signed the ADA into law. By the end of the tour, the ADA Legacy Bus will have traveled over 20,000 miles to 33 states, making over 100 stops!
The ADA bus was originally procured for the 2006-2007 Road to Freedom, a tour which promoted the importance of the 2008 amendments to the Americans with Disabilities Act. Tom Olin, a social documentarian of the disability rights movement for over 30 years, has proven a familiar face on the tour. His photographs have been featured at the Smithsonian Institute and at the United Nations, as well as in the Washington Post and numerous publications and books. Tom has served as a unifying force in connecting communities across the nation to educate the public on 25 years of the ADA.
Show your disability pride and greet the bus, while learning more about the history of this landmark legislation.
Monday, July 13
9:00 am – 11:30 am - Bronx Borough Hall
2:30 pm – 5:00 pm - Queens Borough Hall
Tuesday, July 14
9:00 am – 11:30 am - Brooklyn Borough Hall
2:00 pm – 5:00 pm - Staten Island Ferry
Read more about the ADA Legacy Bus Tour at http://www.adalegacy.com/ada25