Extension Cord Safety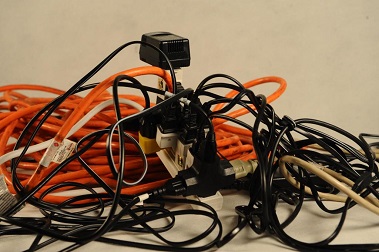 After a fatal fire in Manhattan on Feb. 23 caused by an extension cord, the FDNY urges all New Yorkers to exercise caution when using this type of wiring. Please remember:
Extension cords are only for temporary use. Most cannot carry as much current as permanent wiring and tend to overheat.
Extension cords come in a variety of wire sizes known as gauges. The most common are 18, 16, 14, 12 and 10. The lower the gauge, the more electrical current (amps) the wire can carry.

To determine if an extension cord is properly rated for the number and type of devices being plugged in, add the total wattage of each bulb or appliance and then divide by 120 to calculate the total number of amps. If the total amps is equal to or greater than the maximum rating for the cord, you must use a higher rated extension cord.
When in doubt, use an extension cord that is heavier than what is required, never lighter.

The ability of any cord to carry electricity decreases as the cord's length increases. You need to upgrade to a heavier-duty gauge cord when making a longer run.
Never use an extension cord, regardless of the gauge, with large current appliances such as refrigerators, freezers, air conditioners, clothes dryers or space heaters.
Counterfeit UL certified products are common. They have far less copper wiring than certified cords and cannot handle high levels of electricity. While spotting a fake may be difficult, the best indication is the price – if it costs .99 cents, it is most likely an unsafe counterfeit product.
Learn more about how to keep your home fire safe.

[an error occurred while processing this directive]