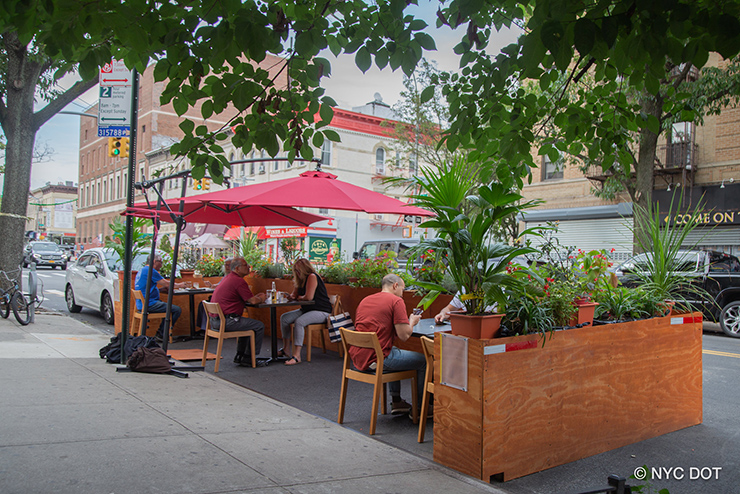 Temporary Open Restaurant Program Outdoor Dining Area Siting Requirements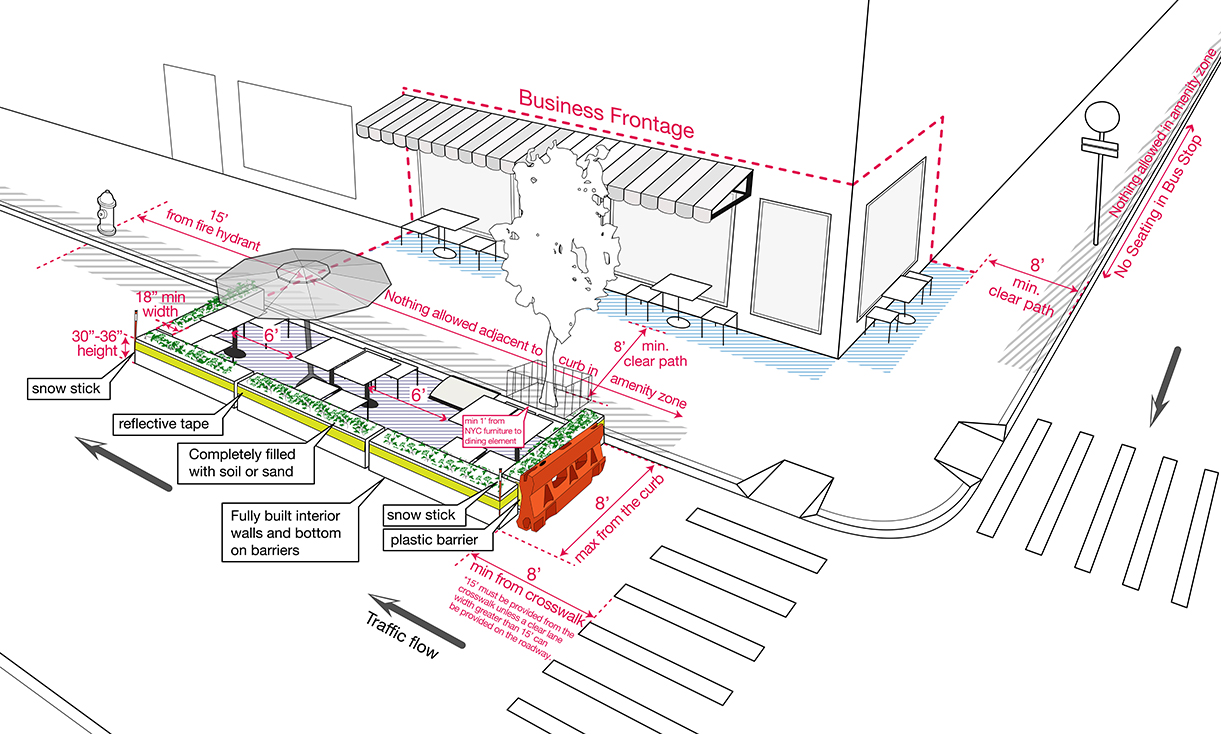 Please review the requirements to determine if your location qualifies to have an Open Restaurant sidewalk and/or roadway seating area.
Restaurants that applied to the temporary program acknowledged that they understood and agreed to all applicable terms and conditions and all applicable laws and guidance. If an establishment is not compliant, the City may revoke or suspend its authorization at any time during the program period and may remove any roadway or sidewalk dining setup.
Setups
Setups or additions of any kind may not be bolted down or drilled into the roadway, sidewalk, or building façade
Setups may not be taller than your storefront or one story, whichever is shorter
Multiple level setups are not permitted on the sidewalk or roadway
Setups, tents or umbrellas may not block any street regulation signs, fire escapes, Siamese pipes, or water sampling stations
No sign, either illuminated or non-illuminated, announcement or advertising devices of any nature, shall be placed or painted on or affixed to in any manner on any setup, awning, screen or other appurtenances used in connection with the outdoor dining area; except the name of the establishment shall be permitted
The establishment cannot remove any City property already installed on the sidewalk and/or roadway in front of their establishment; such removal by the establishment may result in a penalty
No setups on the sidewalk can be located adjacent to the curb, in the 'amenity (furnishing) zone'; for roadway setups, you can only build up to or on the curb
Amplified Sound
Amplified sound is not allowed in either sidewalk or roadway dining setups

This includes audio speakers, TVs, and live music.
Sidewalk Seating Requirements
An 8' clear path for pedestrians must be provided
For clear path purposes, parking meters, traffic signs and tree pits with flush gratings (without tree guards) are exempt. All other above-grade structures are considered obstructions
All items for outdoor dining (i.e., tables, chairs, heaters) must be up against the wall of the business or as close as possible
Sidewalk seating area may not exceed business frontage
Must be at least 3' from the adjacent business to avoid overlap and conflict between adjacent seating setups
Must not cover, shade, come in contact with, or be placed within 1' of the trunk or branches of a City tree
Must not be placed within or over City tree beds without a permit from NYC Parks
Must not cause rainwater runoff to discharge directly into a tree bed
Heaters must be placed at least 5' from trunk or branches of City trees
Cannot block subway grate, utility hardware or Siamese water connection
Cannot block bus stop waiting area
Sidewalk seating elements must be removed when a city agency, utility company or other contractor needs to access the space for installation or repair. Failure to remove may result in removal by the City as well as a penalty
Platforms may not be installed on sidewalks
Roadway Seating Requirements
Roadway Setups:
Barriers must be on all three sides of the seating perimeter that are in the roadway, to separate seating from the travel lane
Barriers must be at least 18" in width and 30-36" in height (excluding plantings) to preserve visibility for motorists and provide protection for patrons (see Siting Criteria diagram)
All barriers must be completely filled with water, sand or soil. Water filled barriers are strongly recommended
Barriers must have a solid exterior wall and bottom to hold filler material
A plastic water-filled barrier in front of the roadway barrier facing oncoming traffic on busy roadways is highly recommended for all roadway setups
Continuous reflector tape must be added along the top outside edges, and snow sticks must be added to the corners of the two barriers facing traffic
Barriers must be no more than 8' from the curb
A ramp for ADA compliance, whether mobile or permanently affixed, must be provided for setups with accessibility challenges
Seating and barriers may not be within 15' of a fire hydrant
Seating and barriers may not be within 8' of a marked or unmarked crosswalk
Roadway setups may only be built up to or on the curb; no setups can be located in the 'amenity zone'
Any lighting must be of a reasonable brightness and cannot be blinding to passing traffic
Roadway seating must not be within a No Stopping Anytime or No Standing Anytime zone, bike lane, bus lane/stop, taxi stand, or Carshare space
[Exception: For part-time No Stopping or No Standing zones, seating may be placed when those rules are not in effect. Barriers and seating must be removed from the roadway when No Stopping or No Standing is in effect]
Establishments may only use umbrellas with a weighted base or tents or other shelters, not to exceed 400 square feet in total
Umbrellas and tents may not extend past the barrier, obstruct access to or ventilation of utility covers, or obstruct clear paths
Refer to NYC DOB's 2021-005 Bulletin for information about when permits are required (issued May 28, 2021)
Umbrellas and tents must not be used during inclement weather such as high wind condition and heavy snow events
Enclosed setups, such as plastic domes, will be allowed and are subject to the same standards as umbrellas and tents
Outdoor dining setups may not cover, shade, come in contact with, or be placed within 1' of the trunk or branches of a City tree
Outdoor dining setups may not be placed within or over City tree beds without a permit from NYC Parks
Outdoor dining setups must not cause rainwater runoff to discharge directly into a tree bed; runoff from cleaning may not be discharged or allowed to flow into a tree bed
The City will allow restaurants to incorporate heating elements into their outdoor dining setups, learn more about approved heating elements in the Heating FAQ
Only electrical heaters are allowed within roadway setups
Heating elements shall be placed at least 5' from trunk or branches of City trees
Setups may not be taller than your storefront or one story, whichever is shorter
Multiple level setups are not permitted on the sidewalk or roadway
Winter Weather and Snow Alerts:
DSNY Guidance for Open Restaurants during Winter Weather and Snow Alerts
During an active snow alert when roadway dining is suspended:

Open Restaurants will be notified by email when roadway dining is suspended
Diners may not sit in roadway setups. Please remove or secure any tables and chairs
All electrical heaters in roadway set ups must be removed
If possible, restaurants should remove any overhead coverings. At minimum, please regularly remove the snow from overhead coverings until the snow alert ends
When high winds are expected, restaurants should take all precautionary measures to anchor objects in the outdoor seating area such as umbrellas, tents, tables and chairs, or bring them inside

If 12" or more of snow is forecast, restaurants must also:

Remove or consolidate your roadway setups to have as small a footprint as possible along the curb
If you're unable to remove or consolidate your roadway setup, you are encouraged to take steps to protect your asset from damage due to snow removal operations

You may sign up to receive snow alerts and all snow-related updates through Notify NYC. To sign up for Notify NYC, call 311, visit www.nyc.gov/notifynyc, or follow @NotifyNYC on Twitter
Restaurant owners may:
Leave barriers in place within a metered zone, alternate side parking, or No Parking Anytime zone, provided that that tables and chairs are removed or secured when not in operation
Where seating is authorized along a curb, install a platform behind the required barrier to flush height with curb to facilitate ADA compliance, prevent the curb from becoming a tripping hazard, and allow drainage to underpass seating

Such platforms shall not block rainwater drainage getting to the curb or flowing along the curb
Such platforms shall not obstruct access to or ventilation of utility covers.
Video: Open Restaurants Roadway Seating Walk-Through
NYC Parks Street Trees
The following are prohibited without a permit from NYC Parks:
Tree removal
Tree pruning
Attaching lights or other materials to trees
Constructing any structure within or over a tree bed
To apply for a Tree Work Permit, please visit:nycgovparks.org/services/forestry/tree-work-permit
NYC Parks Tree work:
In the event of emergency or routine tree work, sidewalk and/or roadway seating elements and closures must be removed for access as requested by NYC Parks
Parks will provide at least 48 hours' notice whenever possible, however for emergency tree work, little advance notice may be provided
Open Restaurants Map & Dashboard
Find an Open Restaurant near you! Search the NYC Open Restaurants map and dashboard at nycopenrestaurants.info.
Inspections & Enforcement
NYC DOT may immediately revise, terminate, or suspend, for a period of time and without prior notice, the outdoor dining authorization based on valid complaints, lack of ADA access, need for repairs, lack of compliance with Open Restaurants regulations, or for any other reason.
Outdoor Dining Inspections
NYC DOT teams conduct inspections and respond to complaints. We work with restaurants to improve their setups with the goal of bringing businesses into compliance whenever possible. Restaurants not in compliance will be issued notices to correct and, if still not in compliance, will be subject to penalties or removal.
Abandoned Outdoor Dining
All roadway seating must be used and occupied within 30 days of authorization. If roadway seating is not used and occupied for any 30-day period, any property within such roadway space may be deemed abandoned and the restaurant must have it removed. The City may remove the abandoned property after providing sufficient notice. Any restaurant can reapply to the program at any time after removal.
Permanent Outdoor Dining Program – Dining Out NYC
Due to the success of the emergency Open Restaurants Program during COVID-19, New York City is working to create a permanent outdoor dining program – Dining Out NYC. This program will be managed by NYC DOT and allow restaurants to use the sidewalk and roadway space in front of their businesses for outdoor dining.
Learn more at nyc.gov/diningout.
Resources
General:
Outdoor Dining Setup:
Contact Us
NYC Small Business Services (SBS) offers a variety of services at no cost to help your business start, operate or grow including business education courses, legal services, and more. Call SBS's Small Business Hotline at 888-SBS-4NYC (888-727-4692) to speak to a trained business specialist.
For questions about the Open Restaurants program or translation assistance with the application please contact us online.
NYC will rely on each establishment's compliance with all of these terms and conditions and all applicable guidance. If you want to report an issue, concern or violation about an Open Restaurant, please contact NYC311.
Looking for information about NYC's Open Streets program? Visit NYC Open Streets.