FOR IMMEDIATE RELEASE
98-12
May 13, 1998
Contact: Geoffrey Ryan (718/595-5371)
DEP Police Acquire Eight New Police Cruisers
Commissioner Joel A. Miele Sr., P.E., of the New York City Department of Environmental Protection (DEP) announced today that the Department had taken delivery of eight new police cruisers as part of its continuing program to upgrade the infrastructure and operating capabilities of all facets of the City's upstate water supply system. In a ceremony today at the Kensico Reservoir, the Commissioner turned over keys for the vehicles to Michael Collins, Director of the DEP Police Division.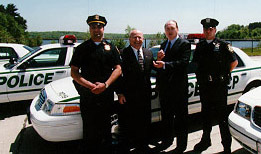 Left to right: Sergeant Robert Pavone, Commissioner Miele, Police Director Collins, Police Officer Michael Skelly.
"Our police officers log thousands of miles a year over terrain from smooth highways to rutted backwoods roads and from steep, curved mountain roads to muddy fire access lanes. Cars may be on the road around the clock. These Ford Crown Victorias are equipped to stand up to the tough and varied operating conditions of police work with state-of-the-art police packages,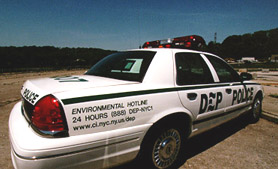 including high performance engines and transmissions, heavy duty suspensions, cooling systems, alternators, and rear ends, plus special police-classification tires, searchlights, emergency lights, and additional safety features. They are also equipped with high and low band radios, which enable police officers to communicate and coordinate with other police agencies throughout the watershed."
DEP is responsible for protecting and operating the City's surface water supply system, one of the largest in the world. Its 19 upstate reservoirs are fed by the streams and aquifers of a 1,969-square-mile watershed in Westchester, Putnam and Dutchess Counties east of the Hudson River and in Delaware, Greene, Schoharie, Sullivan and Ulster counties west of the Hudson River. DEP police operate out of four precincts around the watershed and, while they concentrate on areas around the reservoirs and water supply infrastructure, they patrol throughout the watershed area.
"I am particularly pleased that DEP Police work closely with all the other police agencies in the watershed," said Commissioner Miele. "The cooperative efforts of state, county and town enforcement agencies provide better protection for the communities in the watershed as well as for the City's water supply system."
Water from New York City's water supply system is consumed by nearly eight million residents of the City and one million people who live in Westchester, Putnam, Orange and Ulster Counties, as well as the millions of commuters and tourists who visit New York City throughout the year.