FOR IMMEDIATE RELEASE 18-38
April 26, 2018
DDC: Ian Michaels, 718-391-1589, michaelsi@ddc.nyc.gov
DEP: 718-595-6600, deppressoffice@dep.nyc.gov
Glen Oaks Sewer Project Nearing Completion
When it rains on the highest point in Queens, the water flows downhill fast
Construction photos and a map of the work area are available on DEP's Flickr Page
(Glen Oaks, NY – April 26, 2018) A $12.7 million infrastructure project that addresses stormwater runoff from the highest neighborhood in Queens is nearing completion, to the relief of residents who live downhill.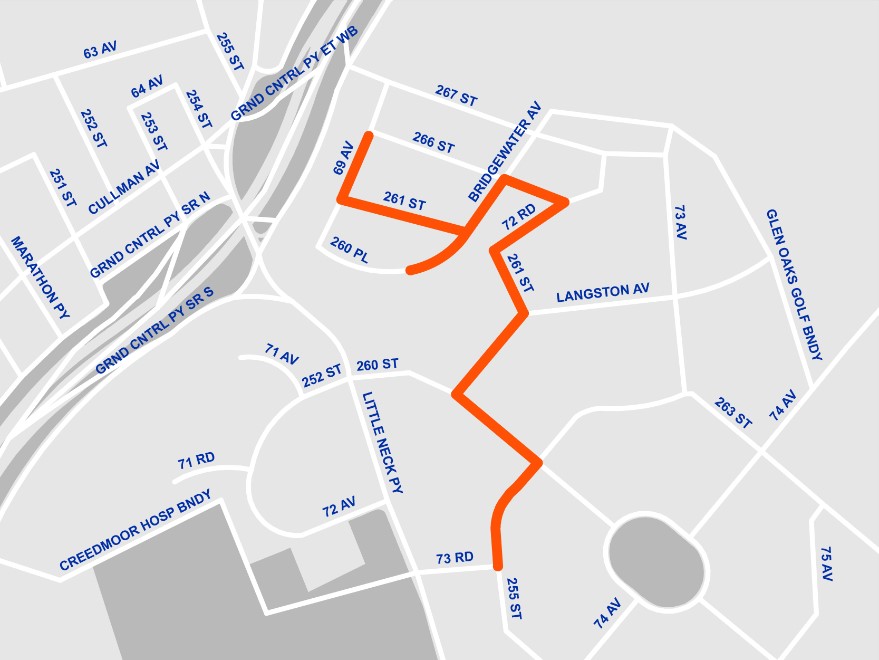 More than 4,600 feet of new storm sewers, some as large as 4 feet by 3.5 feet, have been installed over an 11-block area to capture stormwater from the Royal Ranch neighborhood and part of Glen Oaks, directing it to an existing storm sewer at Little Neck Parkway. The new sewers are fed through 58 new catch basins, positioned to best capture water as it runs downhill or collects in low-lying spots. From the highest part of the project to the lowest, the elevation changes by more than 100 feet.
The project, which is being managed by the NYC Department of Design and Construction (DDC) and funded by the NYC Department of Environmental Protection (DEP), is part of a $1.9 billion investment by the City to improve flooding and street conditions in Queens. The plan, which focuses on southeast Queens, consists of 45 total infrastructure projects to be completed over the next 10 years. The program is the largest of its kind in the City.
"The hills and valleys of the Glen Oaks neighborhood presented a rather unique engineering challenge and our team partnered with DDC to develop a drainage plan that we are confident will help to better manage stormwater, reduce flooding and make the roadways safer for everyone," said DEP Commissioner Vincent Sapienza. "We are excited that the final work, roadway resurfacing, will be completed in the coming weeks and residents will be able to enjoy an improved quality of life."
"DDC is managing almost $2 billion worth of infrastructure projects as part of the City's southeast Queens commitment," said DDC Acting Commissioner Ana Barrio. "Many residents are already seeing the positive effects, and a lot more will in the coming years as it rolls out to more communities."
"Flooding in the Royal Ranch and Glen Oaks sections of Queens has been a major issue for decades," said Council Member Barry S. Grodenchik. "The storm sewer installation is a major step forward and should yield a significant quality of life improvement for local residents."
"Homeowners in this community have expended substantial time and resources over the years trying to contain the damage done by flooding," said State Senator Tony Avella. "It's a great relief to know that their concerns have been addressed."
"For far too long, my constituency has been dealing with flooding in this area of the Eastern part of Queens," said Assembly Member David I. Weprin. "I want to commend the DDC and the DEP for taking action and for finalizing this sorely needed project for the Glen Oaks area of my district."
"In 2013, I wrote to DEP and DDC requesting that they address the flooding problem that has had a detrimental impact on the Glen Oaks area," said Assembly Member Edward C. Braunstein. "I am thankful to both agencies for completing this project which will bring much needed storm sewers and catch basins to both Glen Oaks and Royal Ranch."
In addition to the new storm sewers, 5,600 feet of water mains dating from the 1940s and 1950s were replaced with new ductile iron pipes. Another 4,500 feet of curbs and 1,400 feet of sanitary sewers were replaced, and four fire hydrants were added. The project, which was scheduled to end in June 2018, will be completed in mid-May, with crews currently putting down 31,000 square yards of new asphalt, a process that will be complete by the end of April.
Bob Friedrich is the President of Glen Oaks Village, the largest garden apartment co-op in New York City, with about 10,000 residents in 3,000 units covering 125 acres. The project affects two-thirds of the area he oversees.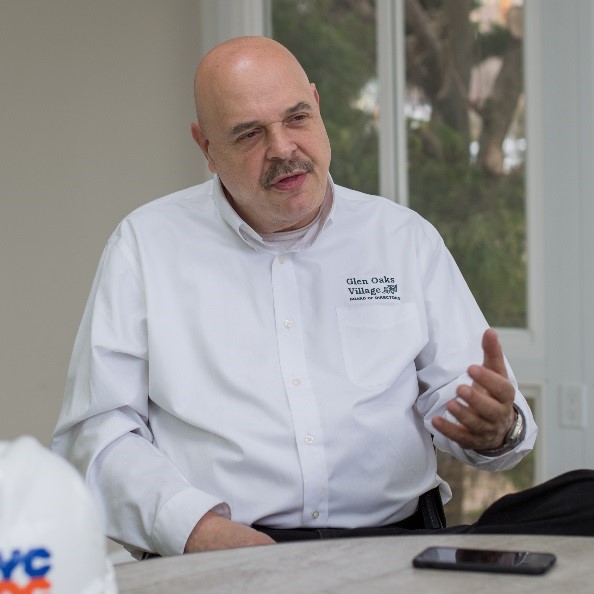 Bob Friedrich, President of Glen Oaks Village
"We are at the bottom of the highest point in Queens so water really does have a tendency to rush through this community and create all kinds of problems," said Friedrich. "After a big rain event we would have debris in the street we'd have to clean up. But I've seen the improvements. In the areas this project affects the flooding is gone. Years ago we used dye to track where the water flowed down the hill, and a lot of that water is now captured."
Dr. Gary Spitz, an ophthalmologist specializing in cataract surgery, lives on 261st Street in an area that boasts the highest elevation in the entire borough. Over 31 years he's seen firsthand the effect that water running downhill can have on his neighbors below.
"When it rains the water used to rush down the street and hit the people down on Bridgewater Avenue pretty hard," said Dr. Spitz. "Now it goes in the sewers. I know they've done a lot of work down there over the years to stop erosion, and to shore up the hill."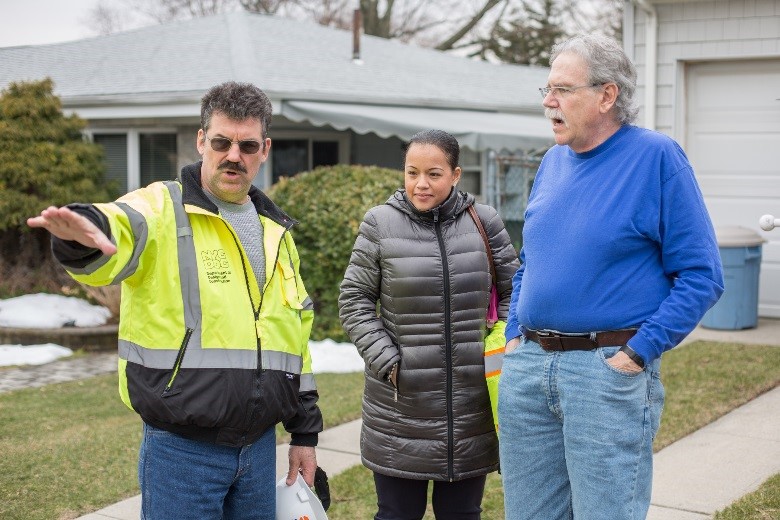 DDC Engineer-in-Charge Eric Sattler and Community Construction Liaison Stephanie Soto discuss the project with Dr. Gary Spitz
To manage the needs of residents during construction, DDC has a full-time Community Construction Liaison (CCL) assigned to the project. CCL Stephanie Soto keeps the neighborhood apprised of construction progress, coordinates street closures and arranges special requests such as deliveries to local homes. Ms. Soto works on-site and is directly accessible to the public at 347-714-0236 or by email at seq200538ccl@gmail.com.
"Stephanie has been great," said Friedrich. "The whole crew really. We've never once had to go to our local Councilmember with any problems, we've been able to resolve them all directly with the crew that's here. That's been a big help."
The general contractor on the project is C.A.C. Industries of Long Island City. Construction management services are by Hardesty & Hanover of Manhattan.
# # #
About the NYC Department of Design and Construction
The Department of Design and Construction is the City's primary capital construction project manager. In supporting Mayor de Blasio's long-term vision of growth, sustainability, resiliency, equity and healthy living, DDC provides communities with new or renovated public buildings such as such as firehouses, libraries, police precincts, and new or upgraded roads, sewers and water mains in all five boroughs. To manage this $13 billion portfolio, DDC partners with other City agencies, architects and consultants, whose experience bring efficient, innovative and environmentally-conscious design and construction strategies to City projects. For more information, please visit nyc.gov/ddc.
About the NYC Department of Environmental Protection
DEP manages New York City's water supply, providing approximately 1 billion gallons of high quality drinking water each day to more than 9 million residents, including 8.5 million in New York City. The water is delivered from a watershed that extends more than 125 miles from the city, comprising 19 reservoirs and three controlled lakes. Approximately 7,000 miles of water mains, tunnels and aqueducts bring water to homes and businesses throughout the five boroughs, and 7,500 miles of sewer lines and 96 pump stations take wastewater to 14 in-city treatment plants. DEP has nearly 6,000 employees, including almost 1,000 in the upstate watershed. In addition, DEP has a robust capital program, with a planned $19.1 billion in investments over the next 10 years that will create up to 3,000 construction-related jobs per year. For more information, visit nyc.gov/dep, like us on Facebook, or follow us on Twitter.