FOR IMMEDIATE RELEASE
11-77
August 19, 2011
CONTACT:
Farrell Sklerov / Michael Saucier (718) 595-6600
Follow-Up Study Confirms No Risk from Pharmaceuticals and Personal Care Products in NYC Drinking Water
NYC Water Remains Safe and Healthy to Drink
Environmental Protection Commissioner Carter Strickland today announced that DEP has concluded a follow-up study that confirms no public health risks from the presence of pharmaceuticals and personal care products in New York City's source waters. In 2009, a one-year pilot program tested for the presence of pharmaceuticals and personal care products in New York City's three upstate watersheds, finding only trace amounts of these compounds. The follow-up study included data on chlorine-treated water in addition to source water, with samples taken from March to December of 2010. The findings of the study again show that NYC Water remains safe and healthy for the nine million New Yorkers who rely on it each day.
"As the operator of the largest unfiltered water supply in the world, our top priority is to ensure that New York City's drinking water is safe and of the highest quality. This follow-up study confirms that this is still the case," said Commissioner Strickland. "Most of the city's water comes from the pristine Catskill mountains, a mostly undeveloped forested area, more than 100 miles northwest of New York City. Although pharmaceutical and personal care products are present in the environment and part of our daily lives, the latest study confirms that they do not affect the quality or safety of the drinking water for nine million New Yorkers. We are committed to maintaining the highest standards of watershed protection and we perform more than 500,000 tests each year to monitor water quality, which far exceeds what is required under regulations. Though there was never any indication that pharmaceuticals and personal care products presented a risk to our water supply, we now have two years of data to back up that assessment. We will continue to rigorously analyze this and all aspects of water quality to make sure New Yorkers get the best-tasting and safest water around."
In the 2010 study, DEP conducted quarterly tests at three source water locations in the Croton, Delaware, and Catskill watersheds, and one treated water location in the Catskill/Delaware system, to determine whether a target group of pharmaceutical and personal care products could be detected at any level in New York City's water supply. After collection, the samples were tested at two different laboratories in each of the four rounds of sampling during the year. The samples were tested for the presence of 72 compounds, including antibiotics, hormones, prescription medications and endocrine disrupting compounds. Results of samples collected after chlorination indicated that the chlorine disinfection had little effect on the target compounds in this study.
Of the 72 compounds tested, 14 pharmaceuticals and personal care products (PPCPs) were detected at least once, and six compounds were detected in three or more quarters of sampling. None of the 14 detected PPCP compounds were found at a concentration that would present a potential public health concern. In fact, all of the 14 compounds identified were found in concentrations in the low parts-per-trillion — 1,000 times lower than the minimum threshold for any of the target compounds that are regulated by the state or federal government. One part per trillion is equal to one drop of water in 26 Olympic-size swimming pools. The fact that a substance is detectable does not mean it is harmful.
Pharmaceuticals have probably been present in water and the environment for as long as humans have been using them. Drugs that are consumed are not entirely absorbed by the human body and are excreted and passed into wastewater and surface water. Some pharmaceuticals are easily broken down and processed by the human body or degrade quickly in the environment, but others are not easily broken down and processed, so they enter sewers or septic systems. Externally applied medications and cosmetics can end up in the sewer as well, via showers and baths. Until recently, hospitals and other health care facilities have often flushed out-of-date or excess drugs down toilets. Wastewater treatment plants are designed to remove solids, chemicals and microorganisms but not at miniscule concentrations.
In recent years, the issue of pharmaceuticals and personal care products as drinking water pollutants has received increasing attention. The pharmaceutical drugs of interest comprise a large range of emerging drinking water contaminants including prescription and over-the-counter drugs, antibiotics, tranquilizers, antidepressants, and other organic chemicals which are not completely treated by wastewater treatment plants.
Although the extremely low levels of substance detected in the New York City Water Supply pose no health risks, DEP continues to work with its watershed partners to promote the proper disposal of pharmaceuticals to protect our source waters.
The testing program initiated in 2010, as in 2009, focused on pharmaceuticals that have been detected in surface waters, groundwater and treated water discharged from wastewater treatment plants in national and regional studies conducted by the United States Geographical Survey and New York State Department of Health. A summary of DEP's study can be found at www.nyc.gov/dep.
The following 14 pharmaceuticals and personal care products were found in source waters at least once: acetaminophen, butalbital, caffeine, carbamazepine, cotinine, DEET, diltiazem, gemfibrozil, iopromide, ibuprofen, meprobamate, paraxanthine, primidone, and sulfamethoxazole. The amount detected in each sample, measured in parts per trillion, was significantly lower than what is deemed to be safe by derived drinking water guidelines, a compilation of studies and reports that detail, in general, the maximum amount of a particular substance an individual can be exposed to on a daily basis without causing harmful effects.
Among the compounds that were tested for but not found were the following:   bacitracin, ciprofloxacin, naproxen, penicillin G, penicillin V, prednisone, testosterone, triclosan, and tylosin.
The chart below indicates the number of eight-ounce glasses of water per day it takes to reach an acceptable daily intake or get an effect from one of these compounds.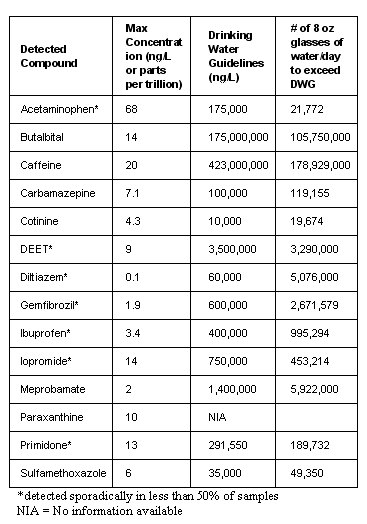 For most of these detected compounds, a person would have to drink at least tens of thousands of glasses of water a day to get one effective dose of the substance or to meet a toxicity threshold. It would take almost 180 million 8-oz. cups of water, at the maximum concentration of caffeine detected in this study of 20 ng/L, to exceed a drinking water guideline value represented by the amount of caffeine in one 8-oz. cup of coffee. The Institute of Medicine advises that men consume roughly about 13 cups of total beverages a day and women consume about nine cups of total beverages a day.
There are no state or federal mandatory testing or reporting requirements for pharmaceutical and personal care product compounds. New York State has generic standards for principal organic contaminants and for any single unspecified organic contaminant. The levels of PPCPs found in the New York City water supply were generally 500-10,000 fold less than these standards respectively. DEP monitors its drinking water for approximately 250 contaminants, approximately 100 of which are not currently required by regulators. DEP performs more than 900 tests daily, 27,000 monthly, and 330,000 on an annual basis from up to 1,000 sampling locations throughout New York City. This work is in addition to 230,000 tests performed in the watershed. There are no established methodologies for routine testing for or removing pharmaceuticals. Only very recently have advances in testing methods allowed researchers to even detect these substances at such minute levels.  Pharmaceuticals are not regulated as a class of contaminants under the Safe Drinking Water Act, the authorizing legislation for Federal drinking water standards.
To prevent pharmaceuticals and personal care products from entering water systems, unused, unneeded, or expired prescription drugs and other medications should be brought to a local pharmaceutical collection event for proper disposal or thrown in the trash by following the instructions and additional information found at www.dontflushyourdrugs.net.
DEP manages the city's water supply, providing more than one billion gallons of water each day to more than nine million residents, including eight million in New York City. New York City's water is delivered from a watershed that extends more than 125 miles from the city, and comprises 19 reservoirs, and three controlled lakes. Approximately 7,000 miles of water mains, tunnels and aqueducts bring water to homes and businesses throughout the five boroughs, and 7,400 miles of sewer lines take wastewater to 14 in-city treatment plants. For more information, visit www.nyc.gov/dep or follow us on Facebook at www.facebook.com/nycwater.