FOR IMMEDIATE RELEASE
03-52
September 23, 2003
Contact: Ian Michaels (718) 595-6600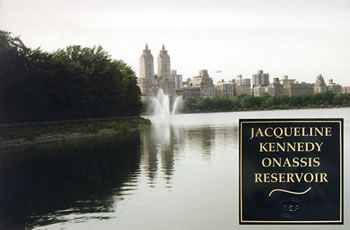 DEP Unveils Signs Renaming Central Park Reservoir As Jacqueline Kennedy Onassis Reservoir
Commissioner Christopher O. Ward of the New York City Department of Environmental Protection (DEP) announced the introduction of new signage to identify the Central Park Reservoir as the Jacqueline Kennedy Onassis Reservoir in whose honor the Central Park Reservoir has been renamed. The signs will be visible at various points around the Reservoir.
Commissioner Ward said, "In 1994, the New York City Council passed Local Law 38, officially renaming the body of water formerly known as the Central Park Reservoir as the JACQUELINE KENNEDY ONASSIS RESERVOIR, and we are proud to be able to bestow this tribute to one of New York City's most cherished residents. Mrs. Kennedy Onassis was committed to our City in many ways; through her efforts to beautify and improve it for the public; her delight in the City's many advantages and opportunities, and particularly her love of Central Park. Today, the City unveils the signs in recognition of her attachment and affection for New York City and Central Park. The Reservoir will forever be appropriately identified in the name of Jacqueline Kennedy Onassis. Though the Reservoir is no longer part of our City's water delivery system, DEP can think of no more appropriate way to honor Mrs. Kennedy Onassis in this pastoral setting in the Park that she loved."
Caroline Kennedy said, "My mother loved Central Park. She spent countless hours enjoying its beauty and sharing its adventures as a child, a mother and a grandmother. The Reservoir was one of her favorite places and she was one of it's earliest circumnavigators. I am grateful to all New Yorkers for honoring her in this way."
In addition to the signage to be hung inside the Reservoir fence, work is ongoing to install a replica of the original fencing that existed when the reservoir was completed in 1862. From that time until 1993 the Reservoir served as a source of water flowing to the City from the Croton Reservoir, the City's first upstate water source
Today, the Reservoir plays an important role for New Yorkers as a source of recreation and ecological interest. The 1.6-mile jogging path around the Reservoir is regularly circled by hundreds of New Yorkers. Additionally, nature lovers can traverse the Reservoir's shores in search of turtles, waterfowl, woodchucks, a variety of fish, as well as plants including sumac, cattails, maples, oaks and elms and cherry trees that were a gift to the City from the Japanese government.
A digital photo of the sign is available. Please call the DEP at (718) 595-6600 for information.