FOR IMMEDIATE RELEASE
03-10
February 25, 2003
Contact: Charles Sturcken (718) 595-6600
DEP Commissioner Presides Over First Graduating Class Of Newly Created Environmental Protection Police Academy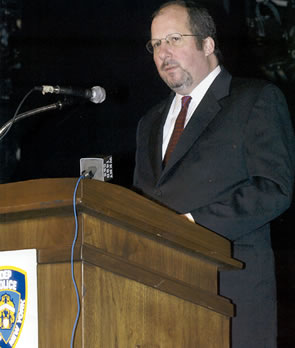 Commissioner Ward speaking to the graduates of the Environmental Protection Police Academy.
Thirty-two graduates of the inaugural class of DEP's Environmental Protection Police Academy, were inducted into the DEP Environmental Police Force by Commissioner Christopher O. Ward at a ceremony on Thursday, February 20, 2003. The ceremony was also attended by representatives of the State Department of Environmental Conservation, the New York State Police, the New York State Director of Homeland Security and the New York State Department of Corrections. The Environmental Protection Police Academy, the first of its kind in the nation, was launched to provide top-notch training to new cadets.
Addressing the Class of 2003 at the Quimby Theater of Ulster County Community College, Commissioner Ward said, "I want to welcome the graduates of the class of 2003 to DEP's Environmental Police Force. You are in the unique position of being the first law enforcement officers to experience this intense training in environmental law enforcement and protection. The many hours of concentrated course work at the Academy, including advanced police tactics and use of state-of-the-art equipment will ensure your commitment to preservation of our natural resources and containment of criminal and environmentally destructive activities. You are the front line of our efforts to protect our watersheds. You and your families should be proud of your achievement and special status," continued Commissioner Ward.
The first group of recruits at the Environmental Police Academy experienced twenty weeks of intensive training in environmental law and police administration, which included basic police training in laws of arrest, use of force, justification, firearms, defensive tactics, terrorism and police science. In addition, courses covered environmental conservation law training in lands and forests, fish and wildlife, stream protection and fresh water wetlands.
The graduates are: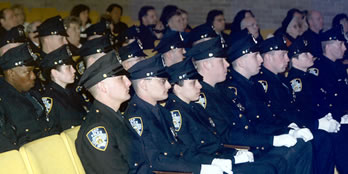 Members of the 2003 graduating class of DEP's Environmental Protection Police Academy.
Kenneth Anson
Nicholas Franco
Anthony Merkerson
Brian Tarpey
Mindy Banks
Anthony Garcia
Brett Misenar
Konstantinos Zarentis
Travis Bernstein
George Gernon
Anthony Nieves
Justin Bruzgul
Heather Grauer
Keith Parker
James Crowley
Nnabuike Iioka
Daniel Pisacano
Pearl Davila
Cliff Johnston
Elinor Pruiksma
Michael Davis
Kelly Kilpatrick
Thomas Reis
Joseph Decker
Andrew Klein
Christopher Santariello
Matthew DuBrino
Edward Kowalik
Gerard Shiloh
Matthew Egnor
Gregg Marinelli
Kristy Tangredi