FOR IMMEDIATE RELEASE
03-03
January 9, 2003
Contact: Charles Sturcken (718) 595-6600
DEP Commissioner Promotes 16 Members Of City's Upstate Environmental Enforcement Unit
Commissioner Christopher O. Ward, was joined by Chief Edward J. Welch, Director of the DEP Police in a promotion ceremony for sixteen DEP Police officers in recognition of their contribution to the protection of the New York City Watersheds.
Commissioner Ward said, "Together, the sixteen officers who are being commended today, represent a century's worth of experience within the DEP Police. In addition to their commitment to excellence, they have helped the force attain the professional recognition it so richly deserves, and they have helped build lasting relationships with other law enforcement agencies as well as the communities we serve."
Chief Welch noted that the DEP Police force has embarked upon an agency-wide reorganization and expansion. He said "The Environmental Enforcement Unit, which has been responsible for preventing pollution in the upstate region has been expanded into the Environmental Enforcement Division (EED). Currently, The EED contains 160 officers. By July 2003, another 40 trained officers will be assigned to the Division. An Environmental Police Academy, the first of its kind in the nation, has been established. Graduates of the Academy will be trained in advanced police tactics and armed with state-of-the-art equipment to enable them to prevent and contain criminal and environmentally destructive activities. In addition," continued Chief Welch, "a new canine unit will allow the DEP Police to track lost persons, detect pollution, and weapons of mass destruction, and a Special Operations Group will be trained in advanced rescue techniques."
Commissioner Ward recognized several DEP officers, "for their long- term commitment and dedication to making the DEP Police force the impressive organization it has become."
Captain Mark Benedetto, who has been with the force for twenty-one years, was promoted to the position of Assistant Chief designated as Chief of Operations for the DEP Police. Lieutenant Thomas Arnold, having served 17 years in the Croton precinct was named Division Commander of East of Hudson Operation. Lieutenant William Flynn, who brings 14 years of experience to his new position, will serve as Croton Precinct Commander. Lieutenants Arnold and Flynn are charged among their other duties with seeking to build on DEP's relationships with towns and villages of Westchester and Putnam Counties as well as the environmental community. Lieutenant Flynn was also appointed to a newly created post of Lieutenant Detective Commander, responsible for a recently formed Detective Division. The Detective Division will conduct sensitive investigations in areas such as terrorism, pollution and crime. Lieutenant Brian Handy will lead a Special Projects Division where he will develop in-service training and rewrite the DEP Police Patrol guide. Special Projects will also be responsible for developing an agency-wide Emergency Response Plan. Lieutenant William Beers was also promoted to the command of the Downsville Precinct within the Delaware District.
Commissioner Ward also personally commended other officers who received promotions. They are:
Sergeant Francis Lynch
Sergeant Jason Shaw
Sergeant John Sweeney
Sergeant Thomas Vasta
Sergeant Frederick Charles
Sergeant Patrick Natale
Sergeant Colleen O'Conner
Sergeant John Pace
Sergeant Michael Reda
Sergeant Roger Rotella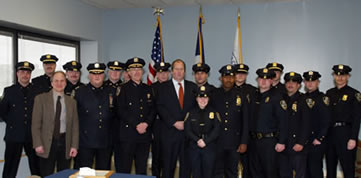 Center DEP Commissioner Christopher O. Ward; left of Commissioner, Chief Edward J. Welch; left in suit, DEP Deputy Commissioner of Bureau of Water Supply, Michael Principe, and awardees.
Commissioner Ward concluded, "The men and women commended today have helped make the DEP Police force a truly self-sufficient agency, one that performs its duties with professionalism, pride and discipline. The DEP Police have contributed so much to the protection of New York City's watersheds, and with our heightened security concerns will be even more crucial to protection of the City's drinking water supply."