FOR IMMEDIATE RELEASE
02-38
August 13, 2002
Contact: Geoff Ryan (718) 595-6600
Ground-Breaking Ceremony For New DEP Police Building At Beerston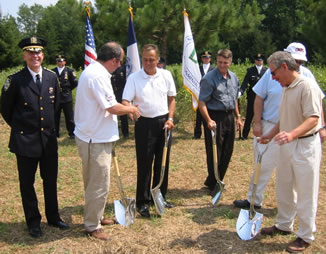 Ground-breaking ceremony for the new DEP Police precinct building at Beerston in the Town of Walton. Working the shovels left to right: DEP Commissioner Christopher O. Ward, Senator John Bonacic, Catskill Watershed Corporation Executive Director Alan Rosa, and Walton Village Mayor Carl Vogel.
Walton, NY, August 13, 2002 -- Commissioner Christopher O. Ward of the New York City Department of Environmental Protection (DEP) presided today at ground-breaking ceremonies for a new DEP Police Building at Beerston. The structure is one of five new precinct buildings that DEP will build over the next two years in the West-of-Hudson watershed area.
"As an integral part of DEP's Watershed Protection Program, we have increased the size of the Water Supply Police force, said Commissioner Ward. "We are also working on an ambitious program of upgrading DEP infrastructure throughout the watershed. Construction of new police precincts is a high priority of that program."
All the buildings will be one or two-stories, designed to fit in the community. All will be sited on City-owned property near reservoirs.
"The new police precincts will accommodate our increased staff and enable Water Supply Police to work in modern facilities," said Commissioner Ward. "They will help to shorten response time to accidents, spills and other incidents around the watershed and will provide an extra measure of watershed protection as well as community police coverage.
Ashokan Precinct at the Ashokan Reservoir, Town of Olive, Ulster County
Beerston Precinct, Cannonsville Reservoir, Walton, Delaware County
Downsville Precinct, Pepacton Reservoir, Colchester, Delaware County
Gilboa Precinct, Schoharie Reservoir, Gilboa, Schoharie County
Grahamsville Precinct, Rondout Reservoir, Town of Neversink, Sullivan County