FOR IMMEDIATE RELEASE
02-36
August 12, 2002
Contact: Geoff Ryan (718) 595-6600
New York City Acquires Land Near Cannonsville Reservoir
Overall Watershed Land Acquisitions Exceed 40,000 Acres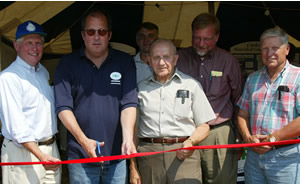 Ribbon cutting on Monday, August 12, at the Delaware County Fair event shared by Watershed Agricultural Council (WAC), Catskill Watershed Corporation (CWC) and the DEP. Left ot right, Richard Coombs, WAC Chair, DEP Commissioner Christopher O. Ward, Alan Rosa CWC Executive DIrector, Perry Shelton CWC President, NYS Agricultur & Markets Commissioner Nathan Rudgers, WAC Vice-chair Fred Huneke. At the ceremoony, Commissioner Ward announced recent land acquisitions near the Cannonsville Reservoir in Delaware County.
Walton, NY, August 12, 2002 -- While visiting the Delaware County Fair on opening day, Commissioner Christopher O. Ward of the New York City Department of Environmental Protection (DEP) announced that DEP has recently acquired several tracts in Delaware County. The vacant properties include five separate parcels totaling 449 acres in the Cannonsville Reservoir basin in the Town of Tompkins.
"These properties fit the criteria for acquisition, as established under the 1997 Watershed Memorandum of Agreement (MOA), and are important properties for protection of water quality," said Commissioner Ward.
Four of the five parcels, totaling 339 acres, are within the high priority sub-basin designated "1B," which includes the drainage basins of Chase, Wakeman, Fish, Dryden, and Chamberlain Brooks. DEP expects to open the two larger parcels, 243 and 69 acres in size, for public access later this year under the City's Public Access Permit system.
The fifth parcel comprises 110 acres in a priority "4" basin, in the Dry Brook drainage. The property is particularly beneficial because it abuts existing reservoir buffer-land and also connects with two additional parcels, totaling 286 acres, which DEP secured recently. DEP plans to open all three of these properties in the Dry Brook drainage to public access in late 2002 or 2003 under the City's Public Access Permit system.
Land Acquisition
The acquisitions will protect several thousand linear feet of tributaries to the Cannonsville Reservoir. After the closings, one of the sellers, Mr. Charles Turner of Walton, said, "As a businessman, developer, and landowner, I can say that it was a pleasure to do business with the City's Land Acquisition and Stewardship Program. I would encourage any landowner considering a sale of their property to think about selling to the City. The benefits are clear: you receive fair market value, there is no loss to the local tax base, and you know your land will be managed to protect drinking water for millions of families."
Commissioner Ward said, "The response from landowners to the Land Acquisition and Stewardship Program has been tremendous. To date, over 520 willing sellers have agreed to accept the City's fair-market-value purchase offers and contract terms. This has allowed the City to protect sensitive watershed lands from development, to provide passive recreational opportunities for the public, and to do so without loss of property taxes to local communities."
With these purchases, City acquisitions now total 23,500 acres throughout the Catskill/Delaware basins on both sides of the Hudson River, while an additional 14,500 acres have been secured through purchase contracts that are expected to close during the next year. These projects include two-dozen conservation easements averaging about 100 acres each. An additional 2,750 acres in agricultural easements, mostly in Delaware County, have been signed to purchase contracts by the Watershed Agricultural Council, one of the City's partners in watershed protection. The City's acquisitions in the Croton System East-of-Hudson, along with New York State's purchases, total an additional 1,000 acres. In all, approximately 42,000 acres have been protected under the MOA and partnership programs.
DEP's Land Acquisition and Stewardship Program acquires land or conservation easements at fair market value from willing sellers only, and pays property taxes in proportion to the property rights acquired. All such properties are purchased under conditions established by the Watershed Memorandum of Agreement, signed in 1997 by local communities, several environmental organizations, New York State, and the U.S. Environmental Protection Agency.
For more information, landowners may contact the Land Acquisition and Stewardship Program at (800) 575-LAND.