FOR IMMEDIATE RELEASE
02-35
August 12, 2002 (Revised September 4, 2002)
Contact: Geoff Ryan (718) 595-6600
New York City to Open Watershed Lands for Deer Hunting and Establish Pilot Bow-Hunting Season; Permits Required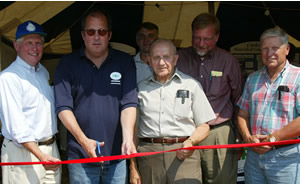 Ribbon cutting on Monday, August 12, at the Delaware County Fair event shared by Watershed Agricultural Council (WAC), Catskill Watershed Corporation (CWC) and the DEP. Left ot right, Richard Coombs, WAC Chair, DEP Commissioner Christopher O. Ward, Alan Rosa CWC Executive DIrector, Perry Shelton CWC President, NYS Agricultur & Markets Commissioner Nathan Rudgers, WAC Vice-chair Fred Huneke. At the ceremoony, Commissioner Ward announced the opening of almost 24,000 city-owned acres for the 2002 deer hunting season.
Commissioner Christopher O. Ward of the New York City Department of Environmental Protection (DEP) announced today that the Department plans to open nearly 24,000 acres of City-owned watershed lands for deer hunting during the 2002 season. In addition to the regular hunting season and a muzzle-loading season, DEP's plans include establishment of a pilot bow-hunting season on certain of those lands.
Following the terrorist attacks of September 11th, 2001, access to City-owned lands for deer hunting was cancelled. This year, however, DEP will allow hunting under the Public Access Permit system introduced last January. DEP hunting permits will be issued only to those applicants who possess a DEP Public Access Permit. A single application form will be available for all three hunting permits by early September.
"I want to welcome hunters back to Water Supply lands for the 2002 deer seasons," said Commissioner Ward. "And I want to thank all in the hunting community for their understanding and support when security concerns caused us to close City-owned lands to deer hunting last year."
"This year," continued Commissioner Ward, "DEP is making more lands available for deer hunting than ever before. We are opening 41 separate sites in six counties, and nearly 10,000 of the total 23,603 acres will be opened for the first time. With the continuing participation and assistance of the hunting community, we can work together to have expanded opportunities for hunting in the future.
Although DEP opens City-owned water supply lands for deer hunting primarily to expand recreational opportunities for watershed and City residents, deer hunting can also benefit water quality by reducing oversized populations. DEP ecologists, foresters and wildlife biologists have documented signs of excessive browsing due to large deer herds at reservoirs and near streams throughout the watershed. Overgrazing limits the natural regeneration of saplings, shrubs and other forest understory plants, potentially causing increased soil erosion and reducing the pollution filtration benefits offered by vigorous vegetation. A healthy forest and stable soils are crucial to the maintenance of drinking water quality.
Following a review of water quality, management and public safety issues, DEP has decided to conduct an experimental archery program for the first time, opening some of its properties for bow hunting. During the New York State bow season, nearly 4,000 acres in three areas - Flynn Brook and Murphy Hill in the Towns of Andes and Colchester (Delaware County), and the Horse Pound Unit in the Town of Kent (Putnam County) - will be available for bow hunting, as well as gun hunting, to special DEP permit holders participating in this season's pilot bow program.
The 2002 deer hunting season will run for the following dates, consistent with regional New York State Department of Environmental Conservation regulations:
Regular (shotgun or rifle): November 18 - December 10
Muzzleloader: December 12 - December 18
Archery (special permit): October 15 - November 17, December 11 - December 15
The pilot bow hunt will be managed as follows: up to 200 combined bow and gun DEP Hunting Tags are available and will be issued by a lottery drawing of all DEP Hunting Tag applications indicating archery that are received by September 13, 2002. Applications postmarked after September 13 and before October 30 will be eligible for gun only Hunting Tags.
Under the new Public Access Permit system, hunters, like all other recreational users on City-owned lands, must obtain and carry a DEP Public Access Permit and a form of government-issued photo identification. In addition, hunters must have a valid DEP Hunting Tag and a New York Deer Hunting Back Tag displayed on their backs while hunting on DEP lands.
To apply for a DEP Hunting Tag, hunters must submit an application by U.S. mail. Hunters who do not already have valid Public Access Permits may fill out applications for both a DEP Hunting Tag and Public Access Permit and submit them at the same time. Prospective bow hunters must indicate on their applications the bow area in which they wish to hunt. Hunters who have applied for DEP Hunting Permits in the past two years will receive DEP Hunting Tag applications in the mail. Applications for DEP Hunting Tags and Public Access Permits are also available at DEP Police Precincts, Protection Offices, and the Kingston, Corona and Manhattan offices, or on the DEP Web site. Public Access Permits may be obtained by submitting an application to DEP through the U.S. mail. Public Access Permit applications are available at the following locations:
DEP Police Precincts:
Ashokan Precinct, Beaverkill Road, Shokan, NY (off Route 28A);
Beerston Precinct, 21939 State Highway 10, Walton, NY (south of Walton near Beersbrook Rd.);
Croton Precinct, 900 Croton Lake Road, Yorktown Heights, NY (Route 129, 1.5 miles southeast of the Taconic Parkway);
Downsville Precinct, 22 NYC Highway 30A, Downsville, NY;
Neversink Precinct, 780 Divine Corners Rd., Hurleyville, (off Rte 105, Neversink, NY);
DEP Protection Offices [available in boxes outside the offices]:
Croton (East of Hudson) Reservoirs, 54 Croton Falls Road, Mahopac, NY;
Ashokan Reservoir, Beaverkill Road and Route 28A, Shokan, NY;
Rondout & Neversink Reservoirs, Route 42, Grahamsville, NY;
Pepacton & Cannonsville Reservoirs, just off Highway 30, Downsville, NY;
DEP Offices [Normal business hours Monday-Friday]:
71 Smith Ave., Kingston, NY.
Bureau of Customer Services, 1250 Broadway (8th Floor), New York, NY;
One-Stop Center (First Floor), 96-05 Horace Harding Expressway, Corona, NY.
Additionally, many town halls and bait and tackle shops within the NYC Watershed carry PAP application forms.
Along with the Tag, DEP Hunting Tag holders will receive a copy of the 2002 Guide to Hunting on New York City Water Supply Lands. This guide contains a complete list of hunting conditions and open hunting areas, as well as maps to assist hunters in correctly locating these areas.
A list of areas open for deer hunting in 2002 follows.
| HUNTING AREA | TOWN | ACREAGE |
| --- | --- | --- |
| Horse Pound Brook | Kent | 1,085 |
| Boyd Corners North | Kent | 254 |
| West Branch Headwaters | Putnam Valley | 561 |
| Warner Creek | Woodstock | 156 |
| Wittenberg | Woodstock | 100 |
| South Mountain | Olive | 270 |
| Piney Point Road | Olive | 297 |
| Sheridan Mountain | Shandaken | 107 |
| Oliverea | Shandaken | 70 |
| Big Indian | Shandaken | 272 |
| Westkill | Lexington | 263 |
| Beech Ridge | Lexington | 299 |
| Bear Kill | Conesville | 115 |
| Mount Hayden | Windham | 698 |
| Maplecrest | Windham | 130 |
| Delaware Headwaters | Roxbury | 369 |
| New Kingston Mountain | Roxbury | 282 |
| West Settlement | Roxbury | 1,542 |
| West Schoharie | Roxbury | 271 |
| Pepacton Ledges | Andes | 108 |
| Flynn Brook | Andes & Colchester | 2,200 |
| Murphy Hill | Andes & Colchester | 520 |
| Cole Hill | Middletown | 179 |
| Covert Hollow | Hamden | 146 |
| Barbour Brook | Tompkins | 45 |
| Fletcher Hollow | Tompkins | 358 |
| Tower Mountain | Tompkins | 102 |
| Johnny Brook | Tompkins & Deposit | 3,791 |
| Speedwell Mountain | Tompkins | 3,665 |
| Sands Creek | Tompkins | 2,011 |
| Beerston | Walton | 816 |
| Yagerville Road | Denning | 152 |
| Red Hill Knolls | Denning | 156 |
| Sundown | Denning | 90 |
| Conklin Brook | Neversink | 143 |
| Blue Hill | Neversink | 314 |
| North Side | Neversink | 149 |
| Sugarloaf Mountain | Neversink | 55 |
| Trout Creek | Wawarsing | 552 |
| South Rondout | Wawarsing | 704 |
| East Mountain | Wawarsing | 206 |
| | TOTAL | 23,603 |