FOR IMMEDIATE RELEASE
01-42
October 4, 2001
Contact: Geoff Ryan (718/595-6600)
AmeriCorps Workers Team Up With Department Of Environmental Protection and Soil and Water Conservation Districts
The New York City Department of Environmental Protection (DEP) has been employing four AmeriCorps members in its upstate watershed this year in a unique partnership with the Greene, Ulster and Delaware County Soil and Water Conservation Districts (SWCD) and a locally based youth employment agency - the Youth Resource Development Corporation.
"This partnership benefits DEP and the Soil and Water Conservation Districts, by providing additional staffing and developing local expertise in recognizing and evaluating stream problems," said DEP Commissioner Joel A. Miele Sr., P.E. "Plus, it provides invaluable work experience to recent college graduates in the field of water resources."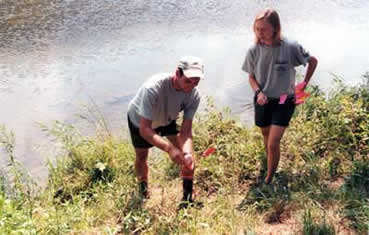 AmeriCorps members Jay Czerniak and Catherine Sinchak "flagging" stream bank level on the West Branch Delaware River in Hamden.
The ten-month-long term of the AmeriCorps members' assignment allows them time to work on all aspects of these stewardship projects, from data collection and analysis, to public meetings and fieldwork. The AmeriCorps members have been working since January in the offices of the three SWCD, as well as the DEP office in Kingston. They received hands-on technical training in stream surveying, Geographical Information System (GIS) mapping and biological monitoring. They are currently assisting the Districts and DEP Stream Management Program staff with surveying eroding stream banks and beds; prioritizing these areas for future restoration work; planting appropriate riparian vegetation after stream restoration work is complete (also known as bioengineering); and evaluating the condition of streams to improve and protect fish habitat, as well as water quality.
"The AmeriCorps program has been extremely valuable in accomplishing almost a full year of work on several ongoing projects," said Rene Van Schaack, Executive Director of the Greene County SWCD, which helped to establish and administer this year's AmeriCorps program in the Catskill region. "Hands-on professional experience should prove extremely valuable to the AmeriCorps members in future employment or study in the water resource field."
Jay Czerniak from Bedminster, Pennsylvania is stationed in Walton with the Delaware County SWCD. A graduate of Penn State University, he is working on the West Branch Delaware Rive that flows into the Cannonsville Reservoir.
Jennie Church, also a Penn State University graduate, is a native of Erie, Pennsylvania. Her work assignment is on the Batavia Kill with the Greene County SWCD.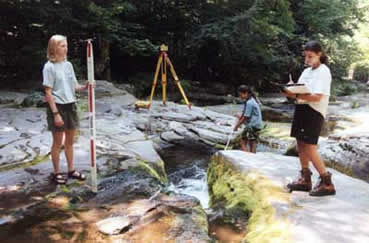 AmeriCorps members on the Stony Clove Creek in Lanesville, Greene County. (L to R) Amanda LaValle and Catherine Sinchak survey an unstable stream bank while Jennie Church uses a GPS (Global Positioning System) to map the location.
Amanda LaValle returned to Woodstock in Ulster County this year after graduation from Cornell University. She has been busy with field assessment on the Stony Clove Creek in Ulster and Greene Counties.
Catherine Sinchak from Independence, Ohio is a graduate of Allegheny College in Pennsylvania. This summer she is working with staff from DEP and the US Geological Survey (USGS) to evaluate the quality of fish and invertebrate habitat in several Catskill streams.
Upon completion of their ten-month assignment in the Catskills, the AmeriCorps members will receive a federal education award of approximately $4,700 for payment of undergraduate loans or future graduate studies. In addition, they receive a weekly stipend from a local agency match - in this case DEP.
Information about AmeriCorps positions in the region is available from the Youth Resource Development Corporation at (845) 473-5005.