FOR IMMEDIATE RELEASE
00-38
August 8, 2000
Contact: Geoff Ryan (718/595-6600)
New Signs Going Up Along Watershed Highways
Commissioner Joel A. Miele Sr., P.E., of the New York City Department of Environmental Protection (DEP) announced today that new signs will be going up along major roads at entry points in the watersheds of the City's upstate reservoirs.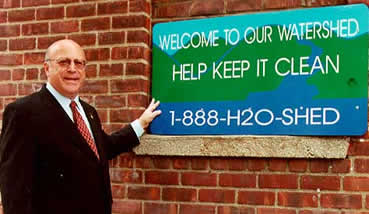 Commissioner Miele displays the new watershed signs.
Commissioner Miele said, "The new signs were designed through the cooperation of citizens, civic organizations, municipalities and counties in the watershed, as well as the Catskill Watershed Corporation, the Watershed Protection and Partnership Council, and the New York State Department of Transportation (NYSDOT). In keeping with concerns of watershed residents, the new signs are smaller in scale than the NYSDOT standard and bear a simple message. I want to thank everyone who contributed to creation of the signs, particularly with a special thanks to the State Department of Transportation for installing them."