FOR IMMEDIATE RELEASE
00-37
August 8, 2000
Contact: Geoff Ryan (718/595-6600)
New York City DEP Appoints New Director Of Police
Commissioner Joel A. Miele Sr., P.E., of the New York City Department of Environmental Protection (DEP) announced today that Robert T. Varieur has been appointed as Director of DEP Police. Mr. Varieur will supervise all police operations in the watershed areas of the City's upstate reservoirs. He will also coordinate enforcement efforts with DEP's Watershed Inspectors, as well as DEP and Corporation Counsel attorneys.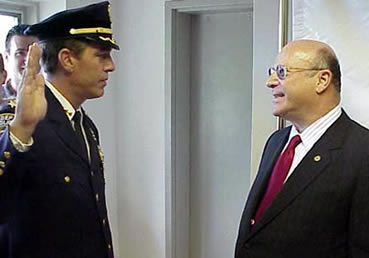 Commissioner Miele (r) swears in new police chief Robert T. Varieur.
"Director Varieur recently retired in the rank of Deputy Inspector from the New York City Police Department (N.Y.P.D.) after twenty years of service," said Commissioner Miele. "Starting out as a rookie Police Officer, he rose through the ranks, taking on increasingly challenging assignments. For the last several years, he has served with distinction as Commanding Officer of the 20th and 33rd Precincts in Manhattan. He has developed effective community relations programs, devised strategies to reduce crime, and created training materials that have been adopted for use by the N.Y.P.D. His experience and training make Mr. Varieur an excellent selection for this important position, and I am very pleased to make this appointment."
Mr. Varieur has a Bachelor of Science degree in Criminal Justice and Police Administration from the State University of New York. He lives in Rockland County with his wife and two children.
DEP's Police Department currently consists of 128 Police Officers and support staff, and will soon reach a full complement of 142. Police Officers are assigned to Environmental Enforcement Units or Patrol Divisions and operate out of six police precincts across the watershed. As announced in July, DEP will build five new precinct buildings in the West-of-Hudson watersheds, starting in the fall.
The watersheds of the City's 19 reservoirs and three controlled lakes covers 1,969 square miles in eight counties on both sides of the
Hudson River – Delaware, Greene, Schoharie, Sullivan and Ulster in the Catskill Region, and Dutchess, Putnam and Westchester Counties east of the Hudson. DEP is responsible for operating and protecting the City's water supply system, one of the largest in the world, which serves nearly eight million residents of the City and one million people in Westchester, Putnam, Orange and Ulster Counties, as well as the millions of tourists and commuters who visit the City every year.