FOR IMMEDIATE RELEASE
00-36
August 4, 2000
Contact: Geoff Ryan (718/595-6600)
DEP Wastewater Treatment Plant Operators Sweep First and Second Place in Statewide Safety and Maintenance Competition
Next Stop National Finals in California
Commissioner Joel A. Miele Sr, P.E. announced that DEP's Bowery Bay and Coney Island wastewater treatment plants placed first and second in the New York Water Environment Association's (NYWEA) 13th annual Operators Challenge held this year at the NYWEA's annual spring meeting in Ithaca, New York on (DATE). The Operators' Challenge, is a national competition developed by the Water Environment Federation (WEF) to formally recognize the expertise and skills of treatment plant operators to safely and effectively operate their facilities.. The New York Water Environment Association is the local chapter of the WEF.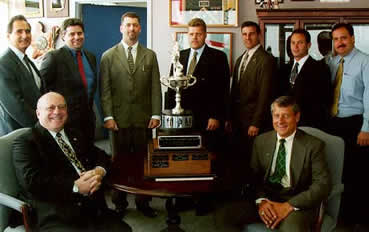 The Bowery Bay team with Commisioner Miele (seated - l) and Deputy Commissioner Robert Adamski (seated - r).
Commissioner Miele said, "This is the first time that two of DEP's teams, the Bowery Bay Bowl Busters and the Coney Island Whitefish have swept both first and second place in the Operators Challenge Statewide competition. The Challenge provides our treatment plant operators and maintenance staff a chance to demonstrate their skills in events related to their daily tasks and reinforces the high degree of competence and pride our wastewater treatment workers bring to the complex round of tasks they perform. The Department is very proud of their achievements both on the job and in these competitive events. We look forward to the next plateau as the teams go on to compete at the National Competition to be held in October at the Water Environment Federation Technology Conference in Anaheim, California."
The teams are required to compete in five timed events, testing their skills in pump maintenance and repair; process control; laboratory procedures; safety and emergency procedures and sewer collections systems maintenance. The competition also included an oral question and answer format. First place Bowery Bay team members are Frank Soviero, John Neske, Chris Laudando, Lisa Betty, and Frank Giovaniello. Coney Island's team members are George Sullivan; Kevin McCormick, Joseph Atkins, and Keith Beckmann.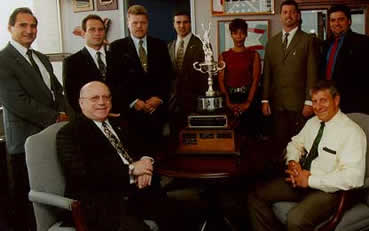 The Coney Island team with Commisioner Miele (seated - l) and Deputy Commissioner Adamski (seated - r).
DEP operates 14 water pollution control plants citywide. The plants treat an average of 1.3 billion gallons of wastewater, and operate 24 hours daily, 7 days a week. DEP's employees at these plants are a highly specialized group of workers who perform a vital service that contributes to the health and safety of all New Yorkers.
The WEF is the largest professional organization representing the wastewater treatment industry. Its membership comprises national and international wastewater professionals from the public, private and commercial sectors. The goal of the WEF is the preservation of the nation's water environment through effective water quality management and by promoting professional, public training and education programs.