MARCH: THE MONTH AHEAD
This week, DemocracyNYC & The Civic Engagement Commission (CEC) is partnering with the Mayor's Public Engagement Unit (PEU) and NYC Public Schools (NYCPS) to host Days of Action to kick-off Civics Week and Student Voter Registration Day (SVRD)! SVRD is a citywide effort to register and pre-register eligible students to vote. Since its inception, this initiative has resulted in the registration of over 60,000 students and serves as a critical pathway for young people to become civically involved.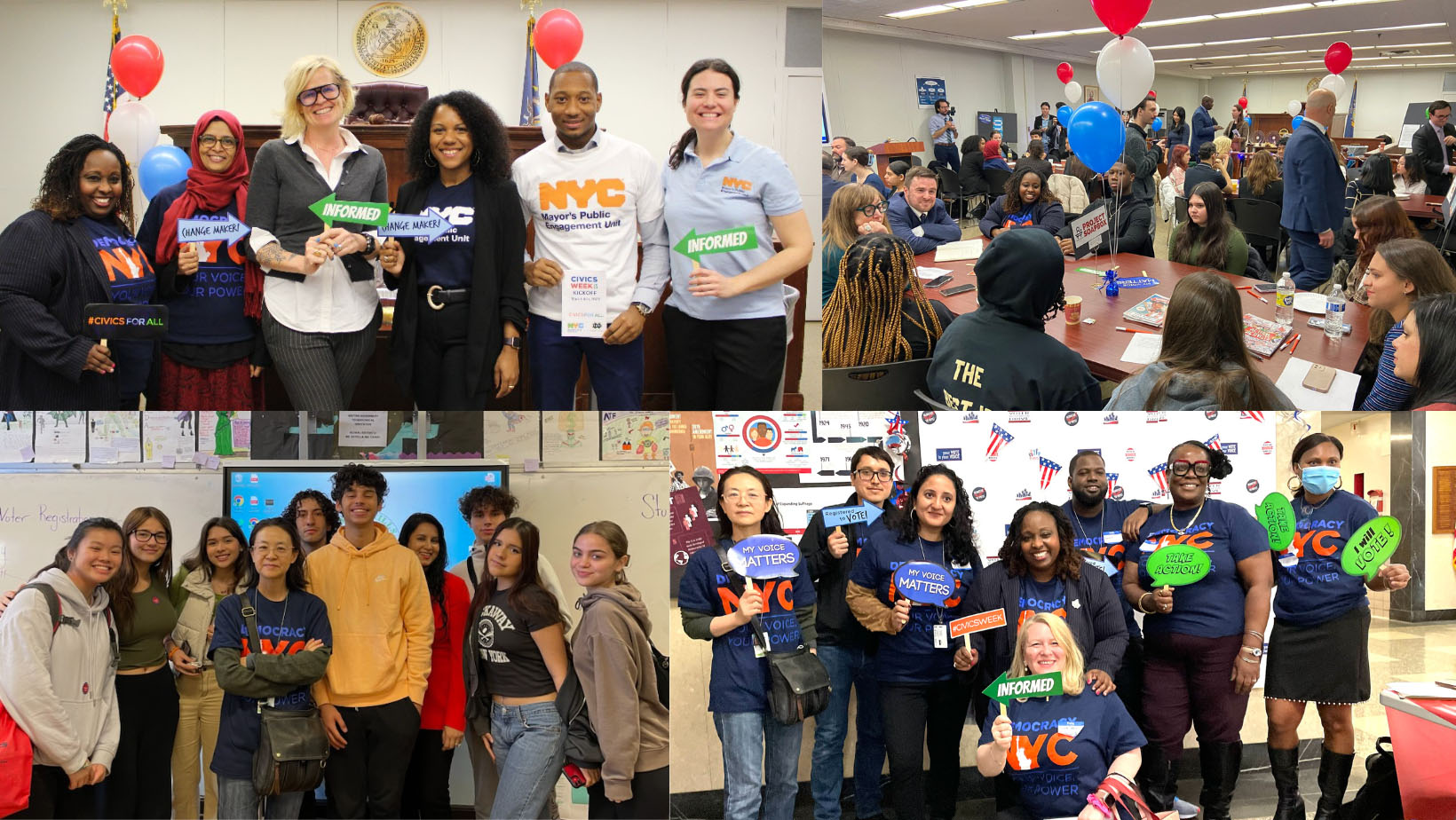 The People's Money! Citywide Participatory Budgeting
Borough Assembly Committees
And that is a wrap for Phase 2 of The People's Money Participatory Budgeting Process. Over the course of two months, each of the five Borough Assembly Committees deliberated on ideas generated by residents from across the city and narrowed down the top ideas that will be placed on the ballot for a borough-wide vote.
The Borough Assembly Committees are part of a burgeoning movement for deliberative democracy that is deepening people's decision-making power around the world. Inspired by Athenian and Indigenous models of social governance, deliberative democratic processes (also known as citizens' or civic assemblies) create a randomly selected, but demographically representative, sample of a population that together learns about pressing issues, engages in deep deliberation, and develops informed policy solutions. Governments around the world have used this process to address issues such as affordable housing, health care, equity in education, and climate change in Belgium, France, and Brazil. Municipalities in Paris, Brussels, and East Belgium have established permanent assembly models, with Paris providing its citizens with agenda-setting powers.
For The People's Money, residents in the five Borough Assembly Committees were split into subcommittees focusing on areas such as health and wellbeing, workers' rights, senior services, and education, among others. Over the course of several assemblies, the committees learned from each other's lived experiences and information on the specific issues facing their communities. This created a collective wisdom amongst the committees and enabled them to select the projects that would best serve their respective boroughs. NYC residents, age 11 and up, regardless of immigration status, will be able to vote on the selected projects starting in May.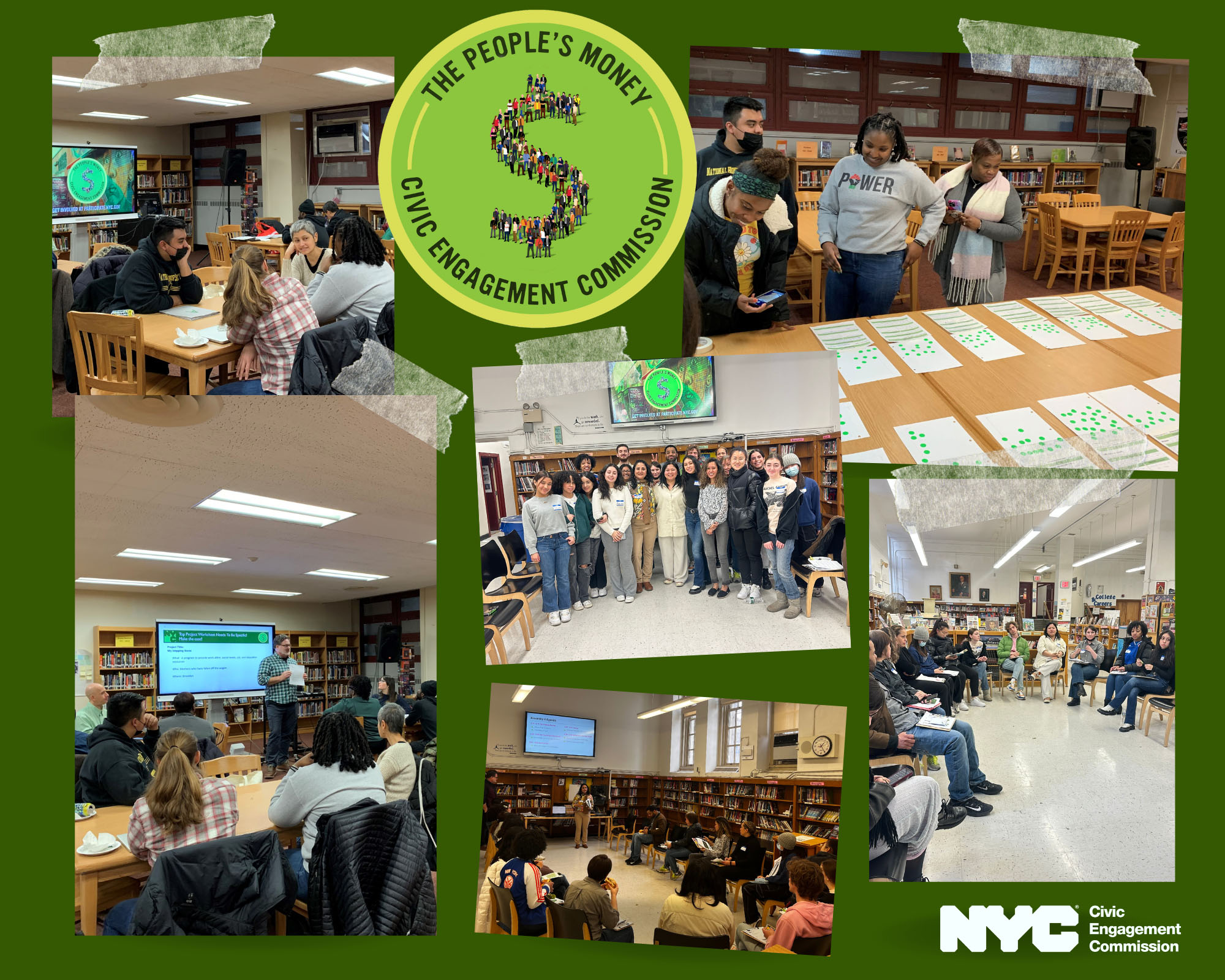 Revitalizing Civic Engagement Through Collaborative Governance
Join Dr. Sarah Sayeed and the CEC on Thursday, March 9th, 2023, from 12 pm - 1:30 pm EST for a discussion with civic leaders on best practices for co-governance, engagement strategies, opportunities with digital technologies, and lessons learned from on-the-ground experiences from communities across the United States! To register, visit: on.nyc.gov/civicsuccess.
Open Data Week: Using Data to Enable Civic Trust
In collaboration with the NYC Civic Engagement Commission, The Governance Lab and CUSP at New York University will host a workshop for NYC Open Data Week. Bringing together leaders from across the New York City government and the community, we will host a brief discussion on the opportunity for civic trust and how open data might help organizations achieve it. CEC Chief Information Officer Oscar Romero will join the panel. There will also be a "civic assembly" in which attendees will reflect on the discussion and ideate new ways that data might be used to inform or enable ongoing Civic Engagement work. To register, visit this link!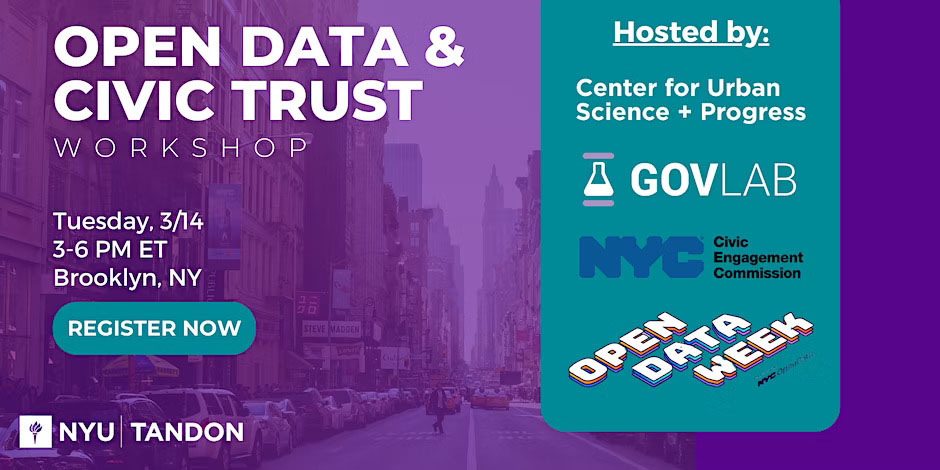 Community Board Trainings
Community Boards are the first level of local government and consist of community volunteers appointed by Borough Presidents. Their charge is to weigh in on matters that affect their community regarding land use, transportation issues, small businesses, youth and education, and environmental issues, among many others.
The CEC works with all 59 Boards across the city to provide assistance and training to community board members, such as workshops on uniform meeting procedures, language access best practices, conflict resolution, and community outreach. The CEC currently offers the following trainings:
Disability Access Workshops
https://airtable.com/shrv8bhwZ0td7PANm

Land Use and Equity
https://airtable.com/shrShfH4nEx3T9grc

Fair Housing and Affordable Housing update from HPD
https://airtable.com/shrzPLdedhZZBIfFV
RECENT EVENTS
City Council Hearing
On February 28th, CEC Chair & Executive Director Dr. Sarah Sayeed testified before the New York City Council's Government Operation Committee on our work supporting community boards. In New York City, community boards are the first level of local government that consists of community volunteers. The CEC provides assistance and training to community board members, such as workshops on uniform meeting procedures, language access best practices, conflict resolution, and community outreach.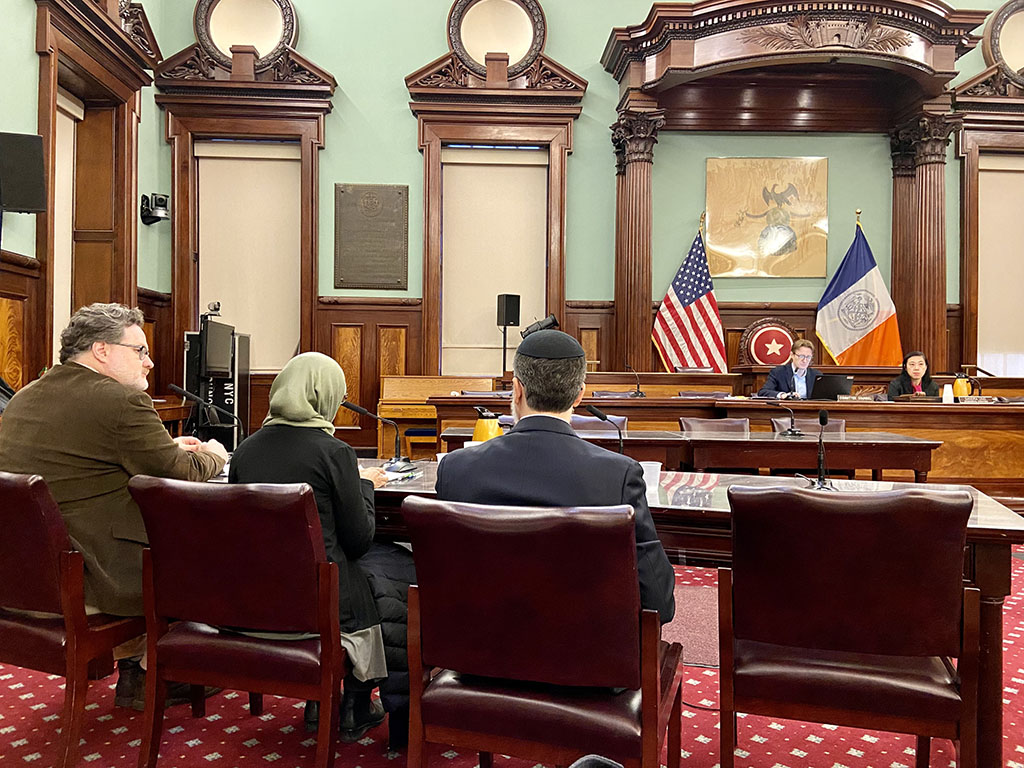 Civic Engagement Summit
We teamed up with Bronx Borough President Gibson for a Civic Engagement Summit at Bronx Borough Hall! Our Chief Democracy Officer, Kathleen Daniel, joined a decorated panel to discuss civic engagement, leadership and ways for youth to get involved in democracy.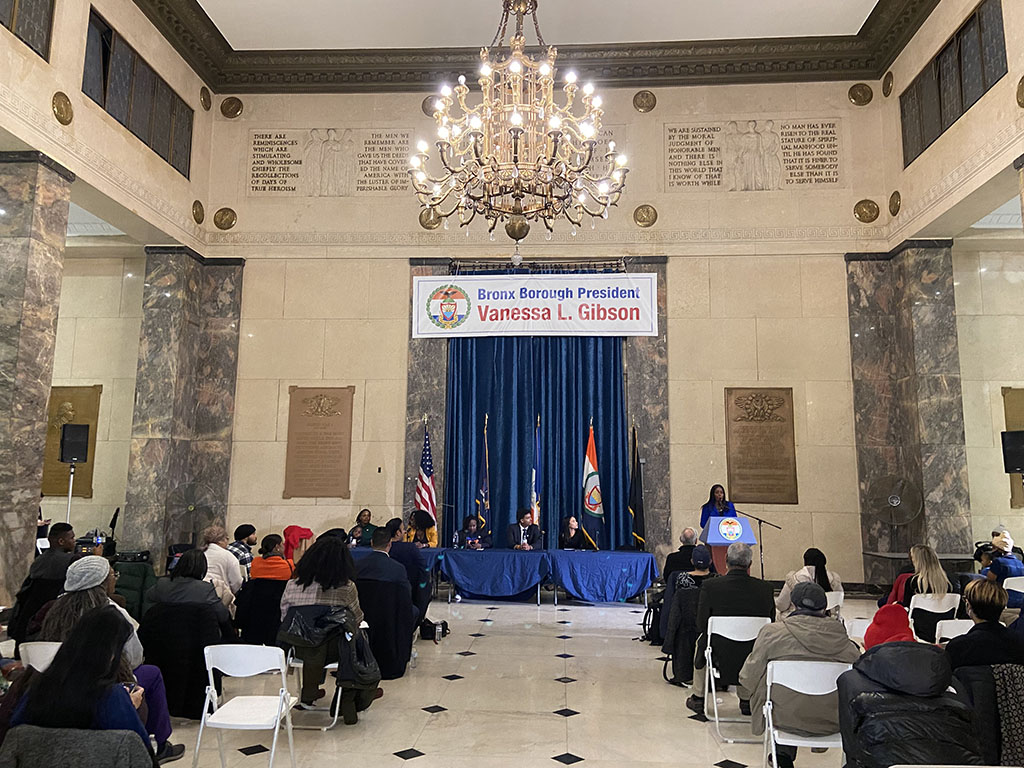 CEC IN THE COMMUNITY
Last Tuesday, we hosted a People's Power Coalition meeting to celebrate Black History Month. We shared program updates and announcements followed by a groundbreaking, innovative digital art presentation called "Quantum Afro Future (Portal X): The Portal of African Intelligence." This virtual exhibit - designed by Ms. Olori Olode, Founder of Noir Labs - seeks to empower the Black community to connect, build and thrive as it takes the audience on a journey from the past to the future through the eyes of a Black artist.
Last Sunday, the Alliance for African Americans held a Domestic Violence and Prevention Awareness workshop in East Harlem. The CEC attended and shared valuable resources on civic engagement opportunities and how residents can get involved.
CEC Medium Blog
We are excited to share that the CEC has launched a Medium page! Medium is an open platform where over 100 million readers come to find insightful and dynamic thinking. Expert and undiscovered voices alike dive into the heart of any topic and bring new ideas to the surface. Create your account and connect with us!

June Primary Election
This June, NYC will vote on candidates for local offices, including City Council, District Attorney (Bronx, Queens, Staten Island), Civil Court, Delegates to the Judicial Convention, and Party positions. Make your plan to vote! To learn more, visit NYC Votes.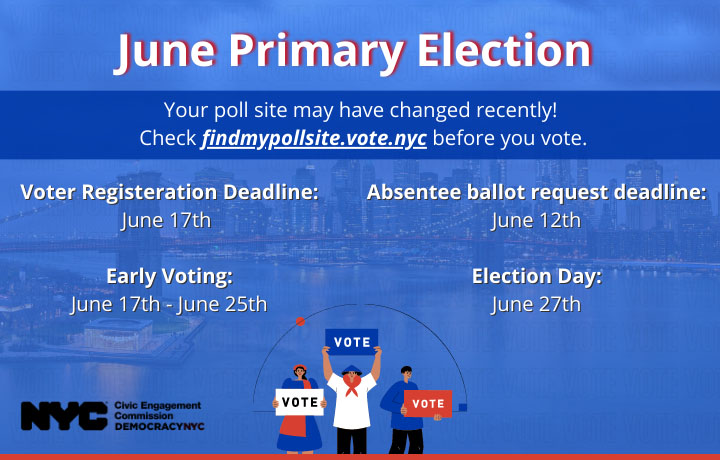 VOLUNTEER OPPORTUNITIES
Recognize Your Volunteers with an Award!
Nominations for the 2023 Mayoral Service Recognition Awards are open! Nominate a volunteer or a volunteer group for one of four awards: AmeriCorps Alum Impact Award, Community Impact Award, Partnership Impact Award, and the Youth Impact Award! Your nonprofit or business can submit a request for a certificate to recognize your organization, signed by the Mayor and the NYC Chief Service Officer. (If you are a nonprofit, you can submit a list of volunteers to receive individual certificates when you complete and upload our Excel file template in the nonprofit certificate request page. Nonprofits must be registered and approved on nyc.gov/service before requesting certificates). Nominations are due March 10, 2023. To learn more and nominate visit: nycservice.org/msrp.

Help Your Organization #GetThingsDone!
NYC Service is accepting AmeriCorps host site applications for our 2023-2024 NYC Civic Corps program year! As a host site and NYC Service partner, you'll have the opportunity to host AmeriCorps members for 10 months to support the building, development, and management of your volunteer programs. All 501(c)(3) organizations in NYC are welcome to apply. Applications must be submitted by March 10, 2023. Interested or have questions? Visit nyc.gov/hostciviccorps for more information and to apply!