Construction Code Revision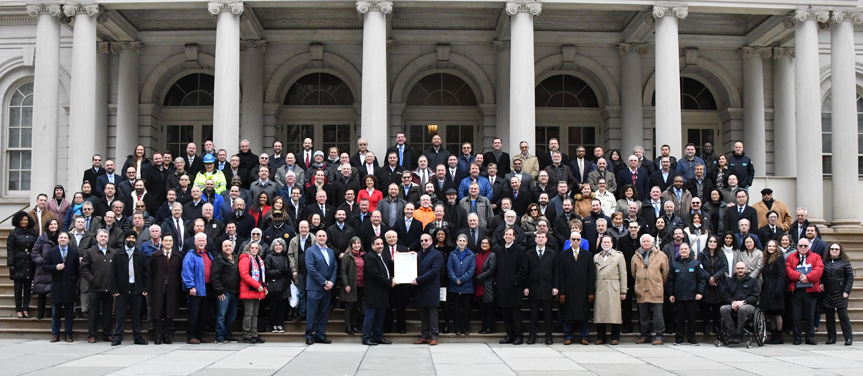 It's Code revision season here at DOB and we need your help!

We are looking for applications from members of the construction, real estate, labor, architectural, and engineering communities, to volunteer on the technical and advisory committees for our upcoming code revision cycle, which will be officially kicking off later this year.

Earlier this week, members of the 2022 Construction Code Committees gathered on the steps of City Hall for a class photo, in recognition of their great efforts during the last code revision cycle. Their volunteer efforts directly led to the development of the current Construction Codes, which officially went into effect on November 7, 2022.

Applications to join the upcoming Code Revision Cycle will be accepted through January 31, 2023. Apply today and help us shape the future of New York City's built environment!

Apply to participate in the next the Construction Code Cycle

Read the 2023 Code Revision Cycle Handbook
Site Safety Training Cards
Starting on Wednesday, February 1, 2023, all workers and supervisors in New York City on the larger and more complex building construction sites are legally required to have Site Safety Training (SST) cards that have been issued through the NYC DOB Training Connect platform.

These updated SST cards are only issued by approved DOB training providers through NYC DOB Training Connect, and include a NFC chip which can be scanned to validate the authenticity of the card, in an effort to prevent fraud.

Workers and supervisors with an SST Card issued before January 1, 2022 should contact the course provider who issued their card to have it replaced with a NYC DOB Training Connect SST Card by Tuesday, January 31, 2023.
Gas Piping Inspection Reports
New York City requires property owners to hire licensed professionals to conduct inspections of certain building systems on a periodic basis, and file resulting inspection reports with the Department. These periodic inspection programs help to promote safety for all New Yorkers, by catching hazardous conditions before a more serious problem arises.

Gas piping systems in all buildings citywide, except for one- and two-family homes, and other buildings classified in Occupancy Group R-3, must be inspected by a Licensed Master Plumber, or a qualified individual working for a Licensed Master Plumber once every four years.

The Department requires different neighborhoods to complete this inspection requirement at different times on a rolling cycle. Property owners in Community Districts 11, 12, 14, 15, and 17, in all five boroughs, are required to have these gas piping system inspections performed before December 31, 2023.
Help for Small Businesses
Need guidance on an upcoming construction project you are planning for your small business?

DOB's Small Business Support Team (SBST) is here to help you cut through the red tape and get straight to business!

Small Business Owners are also welcome to stop by their local DOB Borough Office for Buildings After Hours, a free customer service event open to the public every Tuesday night. At Buildings After Hours, small business owners can meet 1-on-1 with DOB staff to get answers to their buildings-related questions, and discuss their plans for upcoming construction projects.

Reach out to the Small Business Support Team
The Winter Season
Ding Ding Ding
Earlier this week, Manhattan Borough Commissioner John Raine, Deputy Borough Commissioner I-Ju Chen, and Assistant Plan Examiner Nicholas Katsarelis, were at the New York Stock Exchange to ring the stock market opening bell. Members of our Manhattan Borough Office and Senior Staff were on hand to celebrate the recently completed Podium Accessibility Project at the stock exchange, which now allows wheelchair users to comfortably reach the trading floor balcony for the first time.

We applaud NYSE for being bullish on the issue of accessibility, and we were proud to work with them on planning and approvals to get this job done. Its common knowledge that accessibility projects are a blue-chip investment that pays dividends.
Week in Review