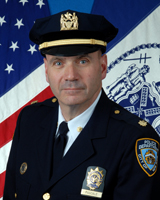 Deputy Inspector Thomas M. Pascale
Crime Statistics  


103-53 101st Street, Ozone Park, NY, 11417
(718) 845-2211

The 106th Precinct is located in South Central Queens. The real estate consists primarily of one and two family homes, small apartment houses and light commercial establishments. There are high rise residential apartment buildings in the Lindenwood area.  The 106th Precinct has the first casino in New York, Resorts World New York Casino at Aqueduct Racetrack.