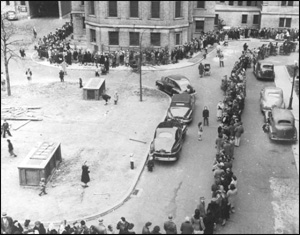 New Yorkers receiving smallpox vaccines in 1947
This section contains historical information on the Department of Health and Mental Hygiene and the past three hundred and fifty years of public health works in New York City.
Bicentennial Celebration
Protecting public health for 200 years is something to celebrate. Learn about the history of the NYC Department of Health and Hygiene from 1805 to 2005.
Chronology of the Department
The Living City
The Living City, produced by Columbia University The Living City is a digital library initiative intended to capture the experience of life, health, and urban transformation during the decades between the end of the Civil War and the end of World War I. See NYCDOH documents and images from the
1860s - 1920s.