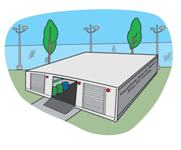 items accepted


locations


hours of operation


drop-off instructions 
ALSO SEE:
take it back nyc for both mandatory and voluntary manufacturer and retailer take-back programs that deal with some of the products listed below.

SAFE disposal events for information about disposing of other harmful household products not accepted at these sites.
---
NYC residents may bring the following materials to the NYC Department of Sanitation Household Special Waste Drop-Off Sites:
*Residents should also check take it back nyc to find out where to bring these items. Some of the items above are required to be accepted at retailers (such as auto batteries, rechargeable batteries, motor oil & transmission fluid, and car tires ), while other items are voluntarily accepted.
** Batteries: (1) Do not mix alkaline batteries with lithium or rechargeable batteries. (2) There are special handling requirements for lithium and rechargeable batteries, see Safety and Packaging Requirements. (3) It is legal for residents to discard alkaline batteries in the regular trash.
---
The sites are open from 10 am to 5 pm on the following days:
Friday before the last Saturday of each month
every Saturday, except for the last Saturday of each month
2013 Special Waste Schedule

 Month
 Saturday Schedule
 Friday Schedule
 January 2013
 January 5, 12, 19
 January 25
 February 2013
 February 2, 9, 16
 February 22
 March 2013
 March 2, 9, 16, 23
 March 29
 April 2013
 April 6, 13, 20
 April 26
 May 2013
 May 4, 11, 18
 May 24
 June 2013
 June 1, 8, 15, 23
 June 28
 July 2013
 July 6, 13, 20
 July 26
 August 2013
 August 3, 10, 17, 24
 August 30
 September 2013
 September 7, 14, 21
 September 27
 October 2013
 October 5, 12, 19
 October 25
 November 2013
 November 2, 9, 16, 23
 November 29
 December 2013
 December 7, 14, 21
 December 27
---
Bronx: Located in Hunts Point at Farragut Street and the East River, next to the Fulton Fish Market. Enter on Farragut Street, off Food Center Drive.

Brooklyn: Located in Bensonhurst at 25th Avenue and Gravesend Bay (next to DSNY Brooklyn District 11 garage and the Adventurers Amusement Park, formerly known as Nellie Bly Amusement Park). From Belt Parkway, eastbound: take exit 5 and head straight on Shore Parkway; make a right on 25th Ave. From Belt Parkway, westbound: take left at Bay Parkway, left at Shore Parkway, make a right on 25th Ave.

Manhattan: Located at DSNY fuel yard at 605 West 30th Street at 12th Avenue, adjacent to the DSNY Manhattan District 6 garage. Enter on 12th Avenue, across from the Air Pegasus V.I.P. Heliport.

Queens: Located in College Point at 30th Avenue, between 120th and 122nd Streets, at the northwest corner of the DSNY Queens District 7 garage. Enter
at 30th Avenue off College Point Boulevard; take a left after 122nd Street. 

Staten Island: Located at the foot of Muldoon Avenue, located off the Muldoon Avenue exit of the southbound West Shore Expressway (440), adjacent to the DSNY Staten Island District 3 garage.

---
NYC residents must show a valid NY State driver's license and a vehicle registration with a NYC address. If arriving without a vehicle, NYC residents can provide a picture ID and proof of residency, such as a utility or telephone bill.
These sites are solely for non-commercial materials from NYC residents. Materials from a business, industrial, "fee for service," or profit-making activity will not be accepted. Drivers with commercial license plates will not be allowed to enter the drop-off area. Any person attempting to illegally drop off bulk material at these sites may be subject to severe illegal dumping fines and impoundment of their vehicle.
These facilities may not be immediately visible since they are generally located within DSNY garages. If you have trouble locating the site, please ask for assistance from a DSNY Garage Foreman or Supervisor.
Upon arrival, check in with a DSNY official who will record your name, address, vehicle registration, and what Special Waste you are dropping off.
These sites operate on a monitored "do-it-yourself" basis. A DSNY official
will instruct residents to empty their Special Wastes into labeled storage containers. Be sure to dress accordingly — for example, sturdy shoes, casual clothing, and work gloves are recommended. If dropping off lithium or rechargeable batteries there are special handling requirements, see Safety and Packaging Requirements.
Residents are expected to deposit their empty paint cans, corrugated cardboard, and any trash into designated containers for proper recycling or disposal after emptying their Special Waste.