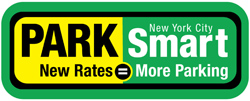 PARK Smart is a program to make parking easier while reducing congestion and improving safety. DOT is conducting six-month pilots in neighborhoods across the City to evaluate how the program works in different settings. The agency works closely with community boards, merchants, BIDs and other local stakeholders when developing the pilots. Based on the success of the pilots, PARK Smart areas have been made permanent in several neighborhoods.
PARK Smart aims to increase the number of available metered parking spaces by encouraging motorists to park no longer than necessary. The meter rate is higher when demand for parking is greatest and decreases when demand is lower.
Goals of PARK Smart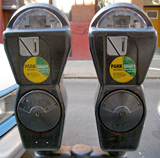 Increase the availability of parking spaces
Increase safety
Reduce double-parking
Reduce pollution
Reduce congestion from circling vehicles
PARK Smart 2.0
NYCDOT has received additional funding to implement PARK Smart projects in several more New York City neighborhoods.
This presentation gives an overview of how PARK Smart can work in a neighborhood retail area.
DOT is currently meeting with Community Boards, Business Improvement Districts, and other community stakeholder groups to discuss new PARK Smart opportunities. We are presently looking for interested partners in all five boroughs.
PARK Smart Areas
Greenwich Village, Manhattan
PARK Smart pricing is in place in Greenwich Village on Seventh Avenue South, Avenue of the Americas, and some adjacent streets. PARK Smart first came to the area as a pilot in October, 2008. After the pilot's success, PARK Smart was made permanent in 2009. The PARK Smart rates are as follows: $5.00 per hour from 6:00 through 10:00 pm, $3.00 per hour for all other hours. Download a map of the Greenwich Village PARK Smart pilot area (pdf) Read the findings from the six-month pilot (pdf)
Park Slope, Brooklyn
The Park Slope neighborhood in Brooklyn has PARK Smart pricing on Fifth and Seventh Avenues, Ninth Street and adjacent streets. PARK Smart began in Park Slope as a pilot in May, 2009 and was expanded and made permanent in 2010. Meter rates are $2.00 per hour from noon to 7:00 pm and $1.00 per hour at all other times that meters are in effect. All other regulations remain the same. Download a map of the Park Slope PARK Smart pilot area Download a presentation on the Park Slope pilot, originally given to Brooklyn Community Board 6 in June, 2010
Jackson Heights, Queens
DOT will be implementing a PARK Smart pilot in Jackson Heights in Spring 2013. This pilot is one of the recommendations of the comprehensive Jackson Heights Neighborhood Transportation Study. Download a presentation on the pilot (pdf) Download a slideshow on the results of the pilot (pdf), presented to Queens Community Board 3 Transportation Committee in June, 2014
Atlantic, Smith and Court in Brooklyn
DOT is proposing a PARK Smart pilot on Atlantic Avenue and Smith and Court Streets in the Brooklyn neighborhoods of Boerum Hill, Cobble Hill and Brooklyn Heights. The pilot's goal is to improve the availbility of parking, and reduce double parking on these busy commercial streets. The pilot is proposed for implementation in Spring 2013. Download a presentation on the pilot (pdf), given to the Brooklyn Community Board 2 Transportation Committee on Feb. 19, 2013 Download a presentation on the pilot (pdf), presented to the Brooklyn Community Board 6 Transportation Committee on Feb. 21, 2013
PARK Smart Meters

All PARK Smart meters have the PARK Smart logo. PARK Smart meters accept both quarters and NYC Parking Cards. Learn more about NYC Parking Cards.