About DOT
Sustainable Streets Index
Together with the DOT Sustainable Streets strategic plan, the Sustainable Streets Index allows the agency to implement more performance-driven transportation policy, geared toward achieving the sustainability, mobility, infrastructure and quality of life goals set forth in Mayor Bloomberg's PlaNYC 2030 initiative.
The Sustainable Streets Index provides data on recent trends in traffic, parking, travel and safety. It also includes a section on "project Indicators", an assessment of 11 major DOT projects completed by the end of 2011. These assessments cover the projects' effects on safety, usage for motor vehicles, cyclists, pedestrians, bus riders and travel times in the project areas.
Download the full Sustainable Streets Index:
Where can a Taxi Take you in Seven Minutes?
Excluding trips two and from the airports, the average New York City taxi ride lasts seven minutes. The map below shows a selection of 7-minute trips made in May 2011. The taxi GPS data only provides pick-up and drop-off locations, this map shows likely travel routes. During daytime hours, taxi trips average 10.9 mph, so a seven minute trip travels an average 1.3 miles. Trips mostly on Manhattan avenues go faster than crosstown trips—12.1 mph on avenues vs 8.5 mph on crosstown streets. Trips outside of Manhattan go faster, averaging 12.4 mph.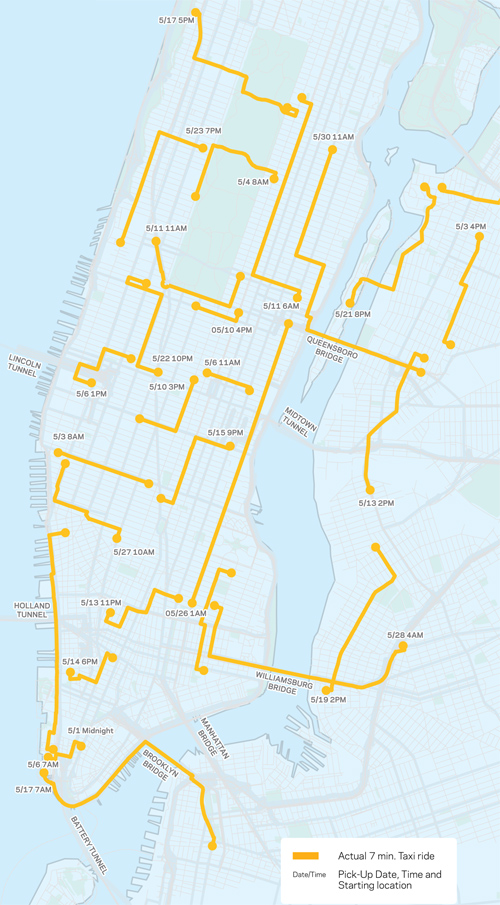 Project Indicators
This map shows the locations of 11 major DOT projects that were chosen as examples of the types of projects DOT regularly undertakes in neighborhoods around the City to improve safety and mobility. DOT collected before and after data for each project to assess its impacts on impacts on safety, usage for motor vehicles, cyclists, pedestrians and bus riders and/or travel times through the project area.
This report is a living document, published annually. Download the Sustainable Streets Index 2010 Download the Sustainable Streets Index 2009 Download the Sustainable Streets Index 2008