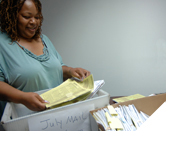 Having a problem with a business? DCA can help.

In addition to the businesses we license, DCA regulates many other industries under the Consumer Protection Law. Each year, DCA receives thousands of consumer complaints … and secures millions of dollars to give back to consumers. We work to resolve conflicts through mediation. If mediation doesn't work, an administrative judge can hear the case or, when necessary, DCA will pursue litigation in State Court.
NOTE: 
DCA may not be the proper agency to handle your complaint. Please review the Referral List before you file a complaint with DCA.
DCA cannot mediate complaints against home improvement contractors working for the NYC Rapid Repairs program. Please contact 311 to report complaints about the program.

Ways to file a complaint


What happens to your complaint


Mediating Your Complaint 


 File your complaint online 
OR
Mail or fax your complaint. Note: Use this option to file a complaint against a home improvement contractor. If your complaint is against a home improvement contractor working for the NYC Rapid Repairs program, please contact 311.
Download the File Your Complaint form in:
English
Español
বাংলা
中文
Kreyòl Ayisyen
한국어
Русский
Submit TWO copies of the completed form and related documents (e.g., store receipts, warranties, contracts, etc.). Do not send originals.

 By Mail:
 NYC Department of Consumer Affairs
 Consumer Services Division
 42 Broadway, 9th Floor
 New York, NY 10004

 By Fax:
 (212) 487-4482


Download the information sheet in:
English     Español     বাংলা     中文     Kreyòl Ayisyen     한국어     Русский