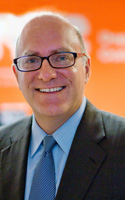 Welcome to the New York City Department of Consumer Affairs. I hope you find our Web site as useful as it is easy to use.
The Department works to ensure that New York City's consumers and businesses benefit from a fair and vibrant marketplace. To do that, we focus on empowering and protecting consumers, while at the same time facilitating fair business practices.
DCA licenses more than 78,000 businesses in 55 different industries ranging from home improvement contractors, electronic stores, and tow companies to sidewalk cafés, newsstands, and locksmiths.  Not only do we enforce particular regulations for each of these types of business, but we also enforce the City's landmark Consumer Protection Law, which prohibits misleading and deceptive trade practices among all businesses selling goods or services to consumers. The Department also enforces weights and measures laws to ensure the accuracy of gas pumps and meters in home heating oil trucks, as well as the scales in supermarkets, jewelry stores, and more. 
DCA serves New York's eight million-plus inhabitants, as well as its millions of yearly visitors. So how do we do all that, particularly in an efficient, accountable, and customer-friendly way?
To start, DCA views the best path to compliance as education supported by fair enforcement. We have established productive partnerships with trade associations and community-based organizations. We meet and communicate regularly, provide them with free information and advice in multiple languages, and often speak at their functions. The Department also works with industry groups to propose new and better laws.
The DCA Licensing Center is the backbone of the agency's functions, serving more than 100,000 visitors per year (including those we serve on behalf of the Department of Health and Mental Hygiene). Customer service is key – and DCA representatives receive high marks in our satisfaction surveys, while increasing services are being offered by mail or online.
To ensure businesses comply with the law and consumers are protected, DCA conducts routine inspections throughout the five boroughs, resolves individual consumer complaints, pursues large-scale litigation, and conducts administrative hearings. Our inspection work ranges from checking for refund policies and proper price posting to performing undercover inspections, including those aimed at ferreting out the illegal sale of tobacco to minors. We reserve our litigation work for businesses that refuse to comply with consumer protection regulations, and focus particular attention to industry-wide patterns of abuse.
Whether you are looking to run a business or have a consumer concern, DCA can help. Look through this Web site to find out how.
On behalf of Mayor Bloomberg and everyone at Consumer Affairs, thank you for working with us to help you.
Jonathan Mintz
Commissioner
New York City Department of Consumer Affairs