Spotlight on... The Young Men's Initiative Summer Barbecue
In June 2013, the Young Men's Initiative hosted our first annual summer barbecue at Gracie Mansion for all of our partners at both City agencies and community-based organizations. Despite a summer thunderstorm, hundreds of people turned out to celebrate the work of YMI!
WHAT'S GOING ON:
On June 18, 2012, Mayor Michael R. Bloomberg, Deputy Mayor Linda Gibbs, and YMI Director Jahmani Hylton hosted the first-ever YMI summer barbecue. The barbecue featured a musical performance by Matthew Searles, a star participant at the Harlem Neighborhood Opportunity Network, as well as moving remarks from two other YMI program participants. Dariel Vasquez, 18, and Rajib Gonzalez, 24, spoke to a gathering of YMI program participants, providers, and supporters about their life experience and how their participation in YMI has positively influenced their lives.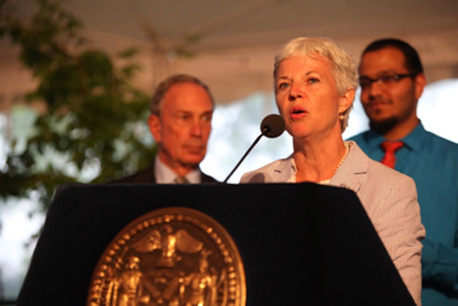 Deputy Mayor for Health and Human Services welcomes attendees and introduces Rajib Gonzalez (right).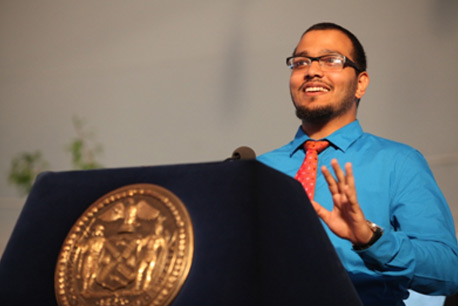 Rajib Gonzalez shares his story as a participant in Cohort 1 of the CUNY Fatherhood Academy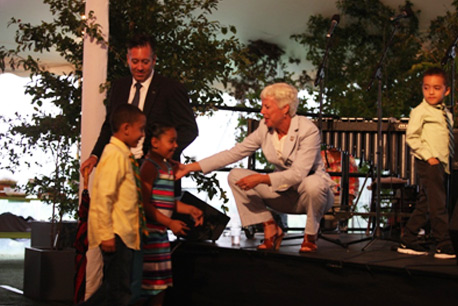 Deputy Mayor Gibbs helps Rajib's three children up onto the stage to join their father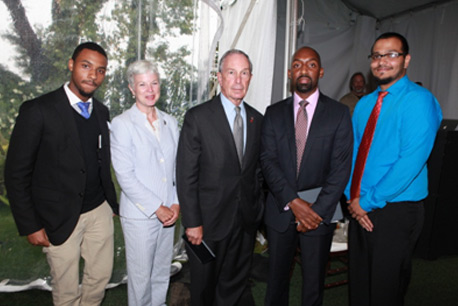 From left: Dariel Vasquez (recent graduate of Thurgood Marshall Academy, and incoming freshman at Bard College), Deputy Mayor Gibbs, Mayor Bloomberg, Jahmani Hylton, and Rajib Gonzalez (graduate of Cohort 1, CUNY Fatherhood Academy)
WHAT'S NEXT:
Check out the Summer 2013 issue of YMI Connection to read more about our summer activities and hear stories from some of our program participants, and follow us on twitter at @NYCyoungmen to keep track of everything YMI is doing in our communities!
See Past Updates
Ban the Box (in PDF)
The Department of Probation's New Adult Operations Center (in PDF)