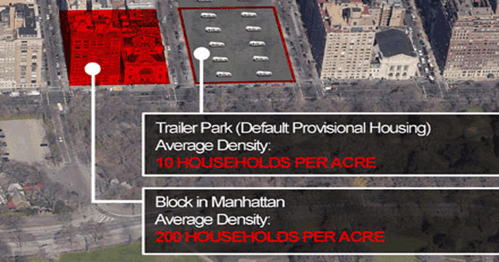 New York City has built and is testing a post-disaster housing prototype for residents who may lose their homes as the result of a disaster event, such as a catastrophic coastal storm. Through the Urban Post-Disaster Housing Prototype Program, the City is creating a multi-story, multi-family interim housing solution that will work in urban areas across the country. Interim housing is post-disaster housing. It is used after emergency sheltering, and before those affected by a disaster can move into housing they can sustain without post-disaster aid.
Because of the city's high population density and the desire to resettle as many residents as possible in their former neighborhoods, the NYC Emergency Management and the Department of Design and Construction (DDC) are developing a new approach to interim housing that provides higher-density living spaces than the single-household homes or trailers typically used for post-disaster housing.
Following the What If New York City... competition, the agencies used the best entries to create an Urban Interim Housing Unit Specification, essentially a blueprint for the manufactured housing industry to use to create post-disaster housing. It contained stringent requirements for safety, environmental quality, durability, and universal design.
NYC Emergency Management then developed a guide, or "playbook," for post-disaster site selection with design principles for keeping residents in the community and allowing them to live and work in their neighborhood.
In 2012, NYC Emergency Management secured funding from FEMA to build a prototype and the U.S. Army Corps of Engineers (USACE) was designated as project manager for the prototype construction. USACE will also test the construction process and living conditions of the housing unit, including air quality and energy efficiency.