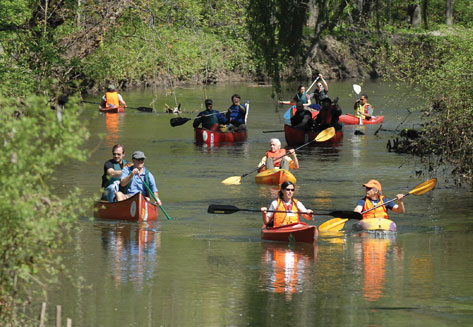 Promoting Safe Public Access to Human-Powered Boating
New York City's waterfront is experiencing a transformative resurgence with renewed interest for recreation and access to the water. From 2013 through 2015, three new City-funded access points will open to the public for launching human-powered boats.
NYC has developed a planning tool for property owners and site managers when selecting new public access sites for human-powered boating (e.g., kayaking and canoeing). The document provides considerations, namely Water Quality, Management, Harbor Traffic, Security, and Site Access, related to existing site conditions and suggested best practices to promote public health and safety. It will be updated to reflect input from site managers and the boating community as implemented, and to reflect future changes.
The City will continue to expand public access and open new sites along the waterfront, consistent with the goals of PlaNYC, the Comprehensive Waterfront Plan, and the Waterfront Action Agenda, while considering factors such as the New York State Department of Environmental Conservation's water quality classifications, harbor traffic, and security zones.
One of the "Management" best practices for public canoe and kayak sites is the use of signs as a management tool. Signage should include appropriate water quality information and information about any rules for the site's use. To assist privately-owned boat launches to meet these best practices, the following are recommendations for signage:
Recommended signage specifications
Sign dimensions: 24 x 36 inches
Font/Font size: Times Roman (block) 38 pt.
Sample text for boat launch signage
Additional information about water quality designations can be found on page 6 of the Best Practices document.
Sample sign from the NYC Parks
(NOTE: Provided as an example only. The NYC Parks logo cannot be reproduced without permission.)
Download the document (in PDF)