World Class Water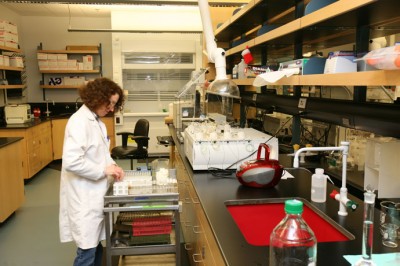 Click to see larger image
New York City's Water Supply
The New York City Water Supply System provides approximately one billion gallons of safe drinking water daily to more than eight million residents of New York City, to the millions of tourists and commuters who visit the city throughout the year, as well as about 120 million gallons a day to one million people living in Westchester, Putnam, Ulster, and Orange counties. In all, the New York City Water Supply System provides nearly half the population of New York State with high-quality drinking water.
Source of New York City's Drinking Water
New York City's surface water is supplied from a network of 19 reservoirs and three controlled lakes in a nearly 2,000 square-mile watershed, roughly the size of Delaware, that extends 125 miles north and west of New York City. The New York City Water Supply System (PWSID NY7003493) consists of three individual water supplies: the Catskill/ Delaware supply, located in Delaware, Greene, Schoharie, Sullivan, and Ulster counties; the Croton supply, the city's original upstate supply, made up of 12 reservoir basins in Putnam, Westchester, and Dutchess counties; and a groundwater supply in southeastern Queens. In 2010, 100% of the city's drinking water came from the Catskill/ Delaware supply. Due to the city's ongoing efforts to maintain the appropriate volume and high quality of water in the distribution system, there is some rotation in the water sources used by DEP.
Regulation of Drinking Water
The sources of drinking water (both tap water and bottled water) include rivers, lakes, streams, ponds, reservoirs, springs, and wells. As water travels over the surface of the land or through the ground, it dissolves naturally occurring minerals and, in some cases, radioactive material and can pick up substances resulting from the presence of animals or from human activities. Contaminants that may be present in source water include: microbial contaminants, inorganic contaminants, pesticides and herbicides, organic chemical contaminants, and radioactive contaminants. In order to ensure that tap water is safe to drink, the New York State Department of Health (NYSDOH) and EPA pre-scribe regulations that limit the amount of certain contaminants in water provided by public water systems. The State Health Department's and the federal Food and Drug Administration's (FDA) regulations establish limits for contaminants in bottled water which must provide the same protection for public health. Drinking water, including bottled water, may reasonably be expected to contain at least small amounts of some contaminants. The presence of contaminants does not necessarily indicate that water poses a health risk. More information about contaminants and potential health effects can be obtained by calling the EPA's Safe Drinking Water Hotline at (800) 426-4791.
Ensuring a Safe, Reliable and Sufficient Water Supply Source Water Assessment Program
Federal regulations require states to develop and implement Source Water Assessment Programs (SWAP) to: identify the areas that supply public tap water; inventory contaminants, and assess water system susceptibility to contamination; and inform the public of the results. The states are given a great deal of flexibility on how to implement SWAP. Elevated susceptibility ratings, which can help estimate the potential for source water contamination, do not mean that source water contamination has or will occur in the water supply; rather, they indicate the need for water suppliers to implement additional precautionary measures. Starting in 1993 and ending in 1997 with the historic New York City Watershed Memorandum of Agreement and the Filtration Avoidance Determination (FAD), New York City began implementation of a series of programs to reduce the susceptibility of the surface water supply to contamination from a variety of sources. These programs, which are ongoing, operate under the close scrutiny of both NYSDOH and EPA. Due to these efforts, NYSDOH did not deem it necessary to perform a Source Water Assessment Program for the New York City Water Supply.
Maintaining New York City's World Renowned Water Supply 10-Year Filtration Avoidance Determination from EPA
The year 2010 marked the third year of DEP's implementation of the latest 10-year FAD, issued by the U.S. Environmental Protection Agency in July of 2007. The FAD maintains New York City's status as one of only five large cities in the country with a surface drinking water supply of such high quality that filtration is not required. As part of the agreement, the city is enhancing existing watershed protection programs, including an agreement to enhance the commitment to acquire undeveloped land in the Catskill/ Delaware watershed as a means of watershed protection; an additional $241 million was allocated (to the $300 mil-lion committed in 1997) to be spent over a 10-year period for this purpose. Recently, New York State and New York City announced a landmark agreement to continue safe-guarding New York City's drinking water. After three years of productive negotiations, the State issued a new 15-year water supply permit that allows New York City to continue acquisition of sensitive watershed land to protect the largest unfiltered drinking water supply in the world. For more information on DEP's watershed protection programs visit www.nyc.gov/dep. Key programs and selected accomplishments include:
Land Acquisition - New York City buys real property interests from willing sellers, to further protect and buffer its 19 reservoirs and controlled lakes in the Catskill/ Delaware and Croton watersheds. In 2010, New York City protected nearly 12,000 acres, the most acres of watershed lands since the inception of the program. Since 1997, DEP has purchased about 116,000 acres of land or easements, adding to the 45,000 acres the city owned in 1997.
Land Management - With the acquisition of land over the past 14 years, the city has become one of the largest landowners in the watershed region. These properties must be managed to ensure that water quality is protect-ed. Since 1997, DEP has increased the acreage of land open for recreation every year, and approximately 74,000 acres are now available for fishing, hiking, hunting, trap-ping, cross-country skiing and other passive activities.
Partnership Programs - Many of the city's watershed protection programs west of the Hudson River are administered by the Catskill Watershed Corporation (CWC), a non-profit corporation formed for this purpose. Together DEP and CWC have addressed more than 3,500 failing septic systems and authorized the construction of more than 70 stormwater control measures to address existing stormwater runoff. The city has also funded the construction of new community wastewater solutions for more than a dozen watershed communities.
Streams, Farms and Forestry Programs – The Stream Management Program (SMP) is a partnership program founded to encourage the long-term stewardship of streams and floodplains in the west-of-Hudson water-shed. The Watershed Agricultural Program and Watershed Forestry Program both represent long-term successful partnerships between DEP and the not-for-profit Watershed Agricultural Council (WAC). The underlying goal of both programs is to support and maintain well- managed family farms and working forests as beneficial land uses for water quality protection and rural economic viability. Together, these partnerships work with watershed residents to identify and eliminate potential pollution sources.
Catskill-Delaware Water Ultraviolet Disinfection Facility
Starting in 2008, New York City began constructing the Catskill-Delaware Water Ultraviolet (UV) Disinfection Facility for the Catskill/Delaware system. This plant will provide an additional level of disinfection to improve control of potential contaminants and pathogens. The plant, which is expected to begin operation in 2012, is located at the New York City-owned Eastview site, a 153-acre property situated in the towns of Mount Pleasant and Greenburgh in Westchester County, New York. The UV Disinfection Facility will consist of fifty-six 40-million-gallon-per-day UV disinfection units and is designed to disinfect a maximum of 2.4 billion gallons of water per day. The plant will provide an additional barrier of microbiological protection by inactivating potentially harmful organisms such as Cryptosporidium and Giardia. This treatment will supplement DEP's existing microbial disinfection programs required under the Safe Drinking Water Act.
Croton Water Filtration Plant
The city is building a filtration plant for the Croton drinking water supply because of a federal Consent Decree entered into with the United States and the State of New York. The filtration plant is expected to reduce color levels, the risk of microbiological contamination, and disinfection byproducts. The filtration plant will also ensure compliance with stricter water quality standards. In September 2004, the city issued a notice to proceed for the first phase of construction of the Croton Water Filtration Plant at the Mosholu Golf Course site in Van Cortlandt Park in the Bronx. In August 2006 and August 2007, the second and third phases went forward. In 2010, construction work at the Croton Water Filtration Plant site continued to make progress: excavations of the two treated water tunnels have been completed as well as the installation of piping in these tunnels; placement of concrete for lining the raw water tunnel has been completed; and concrete placement, installation of mechanical, electrical, heating and ventilating, and plumbing work continues to advance. In addition, off-site work at the treated water shafts.