The Partnerships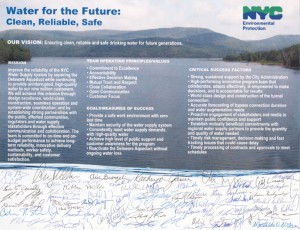 Click to see larger image
To prepare for the shut-down of the aqueduct, The New York City Department of Environmental Protection (DEP) is currently developing a large-scale water conservation program targeting a 5% overall reduction in water consumption city-wide by the year 2020. To date, DEP has conducted significant outreach efforts to establish inter-agency partnerships with other municipal entities. DEP has developed a Municipal Water Efficiency Program (MWEP) in which we will partner with the following agencies:
Department of Parks and Recreation (DPR)
Fire Department of New York (FDNY)
School Construction Authority (SCA)
Department of Education (DOE)
New York City Housing Authority (NYCHA)
City University of New York (CUNY)
New York City Police Department (NYPD)
This conservation program aims to combine the outreach resources of the DEP and partnering agencies to implement water conservation initiatives before asking our customers to conserve in time for the aqueduct shut down.
Official Partners