Repairs in Place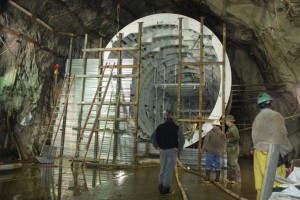 Click to see larger image
DEP will eliminate the leaks in Wawarsing. During the construction of the bypass tunnel, the Delaware Aqueduct will be shut down, enabling DEP to enter upstream portions of the tunnel and fix cracking at three segments totaling nearly 500 feet in Wawarsing by injecting grouting from the inside of the tunnel near the affected areas. DEP has been investigating the potential leak impact in Wawarsing since the day it was first observed. While the investigation was underway, DEP, with the Ulster County Health Department, has taken water samples, photographs, met with homeowners, and, with the United States Geological Survey, created an extensive monitoring network and began hydrogeological mapping. DEP has also attended public meetings on the issue as well as formed a Public Advisory Committee to help keep the community informed about efforts to monitor and repair the tunnel. While studies have been ongoing, New York City has assisted homeowners with sump pumps, ultraviolet disinfection, bottled water, and funds for stormwater improvements.
DEP is also preparing the water supply system to handle the repair. Before the repair is performed, DEP is building or upgrading several key pieces of crucial infrastructure that will help maintain the city's water supply capacity during the construction of the bypass tunnel, including. Some of these measures include:
Completing the construction of the Croton Filtration Plant in the Bronx, which will provide up to 290 million gallons per day of filtered water — up to 30% of the city's water needs
Uupgrading the Cross River and Croton Falls pumping stations to provide increased water capacity
Upgrading the New Croton Dam, which will allow for increased water storage capacity
Establishing a connection of the Catskill Aqueduct and Delaware Aqueduct, which will allow the city to send water from the Delaware Watershed system into the Catskill Aqueduct, providing increased capacity and flexibility for the water supply.