History of the System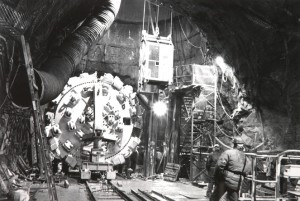 Click to see larger image
New York City's drinking water is nationally recognized for its high quality and for good reason— it tastes great. We perform more than 550,000 tests each year upstate and in the City so that nine million New Yorkers get the best drinking water from the most pristine sources. Today the Catskill and Delaware watersheds supply all of New York City's daily water supply needs, and these source waters are so pristine that they do not have to be filtered. Protecting New York City water at its source is the single most effective way to maintain that high quality, and initiatives like the Land Acquisition Program and our partnership with the Watershed Agricultural Council have resulted in the protection of roughly 116,000 acres of watershed lands.
Our clean, reliable water supply is something many New Yorkers take for granted. But for hundreds of years, clean water was not a fact of life for the people of our City. In 1842, more than 150 years ago, pristine water flowed for the first time from upstate reservoirs into New York City. Today, an amazing system of reservoirs and lakes, aqueducts, tunnels and water mains distributes about 1.1 billion gallons of water daily to nearly 9 million people. Throughout its history, New York City's ability to provide a reliable source of water for its citizens has allowed it to grow and develop into a great urban center.
In the early 1600s, the Dutch founded New York City, settling on the southern tip of Manhattan. For the next 175 years, water came from wells, ponds and springs within the City. The first main source was the Kalch-Hook, or Collect Pond, a 48-acre springfed pond near Franklin and Pearl Streets in lower Manhattan, from which people collected water and brought it to their homes. There were also a few private wells.
In 1667, shortly after the British seized New York from the Dutch, the first public well was dug in front of the old fort at Bowling Green, located near Battery Park. The well used a pump — the first in the City's history — to bring the water from underground.
As population increased, the existing wells and ponds soon were unable to provide enough water. With no system for disposing of sewage and garbage, human waste and trash polluted waterways and the stone-lined wells dug to tap groundwater became contaminated by salt water from the Hudson and East Rivers.
To make up for the lack of pure water in Manhattan, water was hauled from Brooklyn in the early 1700s. Brooklyn had an excellent supply of fresh groundwater, but it was not enough to meet New York City's needs.