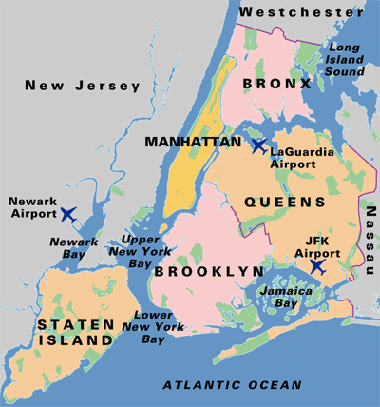 New York City is the international business capital of the United States, with more foreign-based companies than any other city in the nation. 
We are home to the world's largest international community, including the United Nations, 193 Permanent Missions, 114 Consulates and almost 2,000 foreign-based companies.
New York City is best known as a global center for finance, fashion, high-tech, media, and real estate, but we're globally competitive in the areas of bio-tech, hospitality and professional services, as well as logistics and manufacturing.
Maybe you didn't know it, but New York City is home to over 200,000 small businesses, so no matter your company's size, we can help you set up here.
International Appeal
New York City serves as a base for international business because it provides companies with everything they need to succeed in a global economy, whether it's employees, business partners, support services, or professional associations.
More Fortune 500 financial services companies are headquartered in New York City than in any other U.S. city, and 18 of the top 20 foreign-owned banks have their U.S. headquarters in NYC.  The City is also well-known for its fashion and media industries, but emerging industries such as IT and bioscience continue to thrive.  Nearly one-fifth of the City's workforce is employed in professional and business services, and another fifth work in health services.  Half of New York's labor force was born overseas, and 170 languages are spoken in the five boroughs.
New York City is home to 164 academic institutions with a student population of 623,000.  The City's highly educated workforce includes 18,000 science-based graduates per year, providing a wide pool of qualified employees.
Location, Location, Location
With access to three major airports, a seaport, and a highway network, it is convenient to ship goods in and out of the City and serve your clients wherever they are – East Coast, West Coast, Canada, Mexico, Central and South America, and Europe.
The City is served by several regional public transportation links, such as the Long Island Rail Road (LIRR), PATH, and MetroNorth.  And with our extensive subway and bus routes, it's easy to get around the City on public transportation.
New York City Is Ever Growing
New York is a city that's actively planning its future.  We've taken a long, hard look at how we can grow in a sustainable manner while still retaining the dynamism that is our hallmark.  To find out more about the initiatives underway, take a look at PlaNYC, to see where we're going over the next 30 years.
The Division for International Business is part of the government of the City of New York.  The Division for International Business does not endorse, and is not affiliated with, any specific company or product.  Please consult an independent professional for individualized advice on legal, tax, or accounting matters.