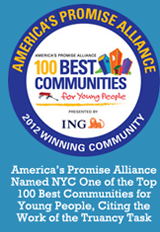 New York City Success Mentors are making a tremendous difference in the lives of approximately 9,000 students citywide. Below is a sample of stories from Success Mentors detailing their proudest moments from working in our pilot schools.






There is one particular sixth grade boy on my focus list who lives in Queens. Unfortunately for him, our school is located in East New York, Brooklyn. On any given morning, this boy rides two buses and a subway train just to get to school. When I tried to call home about his chronic tardiness, I got no answer. I was told by other faculty that he has an older sibling in our school, and that his family hasn't been known to willingly communicate with the school about such issues. So I figured I was going to have to make this student want to come to school. We set weekly and monthly goals, checked in regularly to discuss progress, and brainstormed rewards for success. In September, this one boy was reliably late several times per week. I don't think he took our talks seriously; or at least he didn't believe that I did. But I did. And I continued to pull him out of the classroom for check-ins and goal-setting along with seven other students who struggled with punctuality. Then one week, for the first time, all eight of the students met the goal we had set together. So in response, we threw ourselves a pizza party. Maybe that is when the students realized that their mentors really did care about their presence, because since that pizza party in early December, my group has improved its attendance and punctuality—across the board. And the boy who comes from Queens at 7:30am has led the charge. In the last four weeks of school, he has been tardy to homeroom once.






My proudest moment this year was when one of my students who is on my focus list for lack of school attendance came up to me and said, "Miss, why are you sad when I say I am not coming back to school?" I responded, "Because I'd miss you! The class misses you! Who would have my back if you weren't here?" She laughed and said, "That's true. Did you know my mom told me she was really proud of me for coming to school every day this week? I told her it was because of you, and it made her really happy. That was kind of cool." I smiled, "Well this is exactly why you have to come back on Monday. Think about how happy she'd be then!" It was the first week all year that this student had come to school every day on time. It was the first moment I realized that I was making a difference in not only my student's academic careers, but also in their personal relationships as well.






In the very beginning of the school year when I first started meeting with Steve he was very quiet and seemed fairly guarded. We kept meeting on a weekly basis and eventually I started noticing that he was opening up more and more. He began to seek me out and remind me of our meeting time or just make the effort to stop by and say hello throughout the day.  Now, he gets excited about marking his attendance calendar and enjoys choosing his prizes at the end of the month. Steve was chosen as one of our school's most improved for our first "Duke and Duchess Day" and had a 14% increase from September through December in his attendance.   






I have been a Success Mentor at a public elementary school in Manhattan for fourteen mouths. When asked, what my successes were, I tend to look at how the current designated mentees are doing with better attendance, better grades, and improved behavior in school.  But, nonetheless, I also think one of my successes is when a former designated mentee continues to still consider you their mentor.






Tory was referred due to having a total of 16 absences during the 2011-2012 academic school year. When Tory first began attending the program in September of the 2012-2013 school year, she expressed that she did not want to work with her mentor. After numerous attempts to engage Tory and gain her trust, her mentor began to notice a shift in her demeanor. Tory began to seek out her mentor and would divulge parts of herself and her experiences at school when conversing with her mentor. Over time, with the help of her mentor, Tory appears to have more confidence in herself and is proud of how well she is doing. Tory's teachers have even stated that her behavior has shifted significantly from last year and she is more concentrated on her schoolwork. Not only has she improved her classroom behavior and grades, but her attendance is currently 100% for the school year. The Mayor's Initiative rewarded her hard work and improvements with Broadway tickets to see Annie. Tory's behavior and insight appear to be maturing more each day.






One of my students had a track record of absences and lateness.  As a result, she was failing her morning classes as she wasn't here enough.  I had my first talk with her in October and spoke with her mother as well. The  girl explained to me that she worked after school to earn money.  We had a few other conversations but a few weeks ago I told her that she really had to make a decision to put her education first.  We discussed changing her job hours or her job (both of which she said she tried).  Since she has expressed a desire to go to college she had to realize that coming to school and getting credits was the only way she was going to get there. At any rate, I noticed that shortly afterwards her attendance dramatically increased and that she's only late occasionally. Yesterday, I called her mother and told her how pleased we were and thanked her for the part she's playing in getting her daughter to school.  Needless to say, her mother was thrilled.






One of our students broke his leg and was out of school for six weeks. There was no telephone number to reach his parents. We obtained a working telephone number from a sibling's records. We called periodically to see how the student was doing and told the sibling to tell his brother how much we missed him in school. During our weekly attendance meeting we confirmed with the principal and the attendance person that the student was being taught in the home. Consistently all of us worked together and got the child back to school earlier than intended by the parent.






Roger is a senior in high school, who at first was very resistant and very clear on not wanting to be part of our program. Though his feelings were respected and taken into consideration, I was able to establish a relationship with the student's mother. Our combined efforts resulted in a parent-student meeting in which we explore the student's attendance and I was able to witness the student's change of heart regarding having me as his mentor. I connected the parent and student with other staff at the school on the day of the meeting. Our meeting, which took place in the fall was vital for the work, as now the student enjoys meeting with me and has been able to understand that as a mentor, I am on his side and here for him. This student will be among the many students who will receive their high school diplomas this coming June.






The relationship that we are in the process of building with the parents has demonstrated their willingness to commit themselves not only to send the children to school on a regular basis but also on time. Two brothers are a perfect illustration of this effort. Their absence in school was reduced considerably: from 27 absences in September to mid-October to 8 absences in mid-October to November. Countless small successes of this kind can also be added. But the most rewarding aspect is the heartfelt "Thank you" that we received after each call. In the months ahead we are confident that accomplishments that are more substantial can be achieved.






At the beginning of this school year, one of my students was having a difficult time adjusting to living in a foster care environment. She was upset about not living with her mother and all of our sessions centered around the theme of family. During many of our first meetings, she wasn't able to express her emotions verbally, so she used drawing and writings. I worked to build a rapport and develop a safe space for her to express and explore her emotions. Luckily, my student is still living with her siblings, who are able to offer a strong web of support for each other. In our most recent meetings, she is no longer presenting with sadness about her foster family. Although she still misses her mother, she is now able to verbalize her feelings and express them more openly, and her emotions are not dominated by sadness. I hope to continue to offer my student support within the school environment during this difficult time for her.