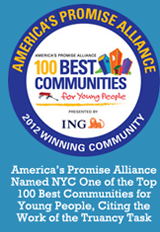 The Success Mentor Corps is the largest, most comprehensive volunteer effort the City has ever undertaken to target at-risk students in public schools.

The Task Force has relied on NYC Service and its community partners to recruit and support the first volunteer corps.

Volunteers range from high school students to recent college graduates to retired professionals, and many of them receive stipends by working with one of the following service organizations: The Children's Aid Society also plays a key role in developing and implementing the Success Mentor initiative.

Drawing on its expertise working with young people and their families on a local and national level, the organization will host workshops and peer conferences for mentors, and visit schools to provide feedback, guidance, and support.

Under the leadership of Sarah Jonas, the Children's Aid Society helps ensure that our targeted schools are developing the most effective practices to engage community partners and improve attendance outcomes for children.