There has been remarkable success at NYC's public schools over the past nine years in improving not only attendance and graduation rates, but also the educational outcomes for NYC public school students.
But far too many children are missing out on the benefits of a great education. In 2009-2010, one out of every five students – 250,000 – missed a month or more of school. The patterns start early. Fifteen percent of elementary school students missed a month or more of school, and by high school, 34 percent missed one month or more of school. These numbers are highest in our high-need communities, where school offers the best opportunity for life success.
Research shows that the consequences of chronic absenteeism are severe: three out of four students who are severely chronically absent – meaning they missed 38 or more days of school – in the sixth grade never graduate from high school. In addition, nearly 80 percent of children in New York City's juvenile justice system were chronically absent in the period preceding their arrest.
This is not solely a Department of Education issue. Because the causes of chronic absenteeism are complex and varied, it is a government-wide and community-wide issue that requires strategic collaboration of key city agencies and other multi-sector organizations.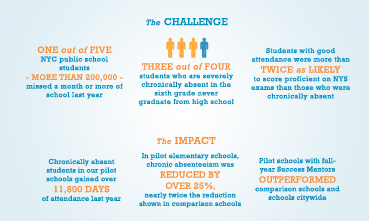 Download a Larger Version of the Infographic About Truancy and Absenteeism in (PDF)
Download an overview of the Truancy Task Force (in PDF)
Additional Information and Research about the Issue
The New School's Strengthening Schools by Strengthening Families Report (in PDF)