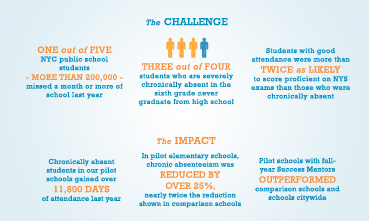 The Mayor's Interagency Task Force on Truancy, Chronic Absenteeism and School Engagement was established by Mayor Bloomberg in 2010 to provide innovative solutions for NYC public schools in regards to chronic absenteeism. The impact of the Task Force's work is clear: pilot schools are outperforming comparison schools and schools citywide. In fact, chronically absent students in pilot schools gained 11,800 days of attendance last year.
Research shows that the consequences of chronic absenteeism are severe: three out of four students who are severely chronically absent – meaning they missed 38 or more days of school – in the sixth grade never graduate from high school. In addition, nearly 80 percent of children in New York City's juvenile justice system were chronically absent in the period preceding their arrest.
Chronic absenteeism is not solely a Department of Education issue. Because the causes of chronic absenteeism are complex and varied, it is a government-wide and community-wide issue that requires strategic collaboration of key city agencies and other multi-sector organizations. The Truancy Task Force is the nation's most comprehensive effort to combat this complex problem.
Download an Infographic About Truancy and Absenteeism in (PDF)
Download an overview of the Truancy Task Force (in PDF)