The 2018 TLC Safety Honor Roll is the fifth annual event recognizing TLC-licensed drivers who have outstanding records of safe driving over many years and millions of miles behind the wheel. The TLC has high standards for its 185,000 licensed drivers, and on a mile-per-mile basis TLC-licensed drivers are some of the safest drivers on New York City streets. The TLC reviewed all of its licensed drivers' records and identified drivers who have, over four or more years, not had a single crash resulting in an injury, a single traffic violation, or a single violation of TLC safety-related rules. The 410 drivers on the 2018 TLC Safety Honor Roll represent a truly elite group.
The TLC Safety Honor Roll also honors taxi fleets, car service bases, and commuter van companies with superior safety records. These businesses play a crucial role in promoting safe driving practices in the for-hire transportation industry.

The TLC Accessibility Honor Roll recognizes drivers who have distinguished themselves as excellent providers of accessible service to our city's wheelchair users. These yellow and green taxi drivers represent the highest and most consistent trip providers in the Accessible Dispatch program.

TLC also honors drivers that provide excellent customer service. These drivers went above and beyond with their passengers, who sent their compliments to TLC.

Taken as a whole, this year's honorees are leading the way in TLC-regulated industries, improving service to the riding public and making our streets safer places to live and work.
Read the press release

List of 2018 TLC Safety Honor Roll Drivers
List of 2018 TLC Safety Honor Roll Businesses
List of 2018 TLC Accessibility Honor Roll Drivers
List of 2018 TLC Customer Service Honor Roll Drivers

These remarkable drivers and businesses were recognized for their commitment to safety and service at a ceremony with their friends and families on October 17, 2018.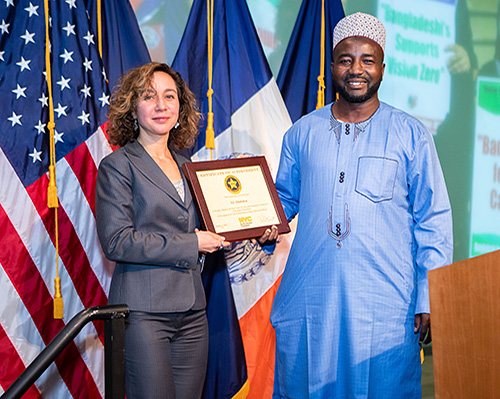 Commissioner Meera Joshi honors Safe Driver Honoree and ceremony speaker Ali Abubakarr.
Facts about 2018 Safety Honor Roll Drivers

TLC Safety Honor Roll drivers have had no crashes involving fatality or injury, no traffic violations, and no violations of TLC safety-related rules for four or more years as TLC-licensed drivers.
The 2018 Safety Honor Roll is comprised of 410 TLC-licensed drivers. Among our honorees, 269 drive yellow taxis, 152 drive for-hire vehicles, 37 drive green taxis, and 29 drive commuter vans.
From 2016-2018, our Honor Roll drivers completed 4.7 million trips. With an average of 5 miles per trip, that's the equivalent of 49 round trips to the moon and back and almost two thirds of the way to Mars at its closest point!
This year, we have 212 repeat honorees: 6 drivers have been honored all five years, 14 drivers were honored for four times, and 57 drivers were honored in three times, and 135 drivers were honored twice.
Three of our Safety Honor Roll drivers this year are women.
Safety Honor Roll drivers hail from all five boroughs. Of the honorees, 46% are from Queens, 24% are from Brooklyn, 7% are from Manhattan, 15% are from the Bronx, and 3% are from Staten Island.
Facts about 2018 Safety Honor Roll Fleets, Bases & Van Companies

TLC Safety Honor Roll businesses have the lowest shares of vehicles involved in serious collisions (i.e., collisions with an injury) in their industry sectors in 2018.
The honorees include five yellow taxi fleets, seventeen car service bases (seven small, five medium, and five large), and five commuter van companies.
Each type of car service base is represented: six luxury limousine, three black car, and eight livery bases.
All of our car service base and commuter van company honorees had zero crashes involving their affiliated vehicles in the past year.
Two business honorees – Ann Service Corp. and Eight Star Inc. – have been on the TLC Safety Honor Roll for two consecutive years.
Our Fleet, Base & Van Company honorees are based out of all five boroughs. Six bases are located in Manhattan, eight are located in Queens, five are located in Brooklyn, one is located in the Bronx, and the remaining five are located outside the five boroughs.
Facts about 2018 Accessibility Honor Roll Drivers

TLC honored 21 taxi drivers for their superior service in TLC's Accessible Dispatch Program. This is the first year that TLC has honored green taxi drivers for accessibility thanks to the citywide expansion of Accessible Dispatch.
The Accessible Dispatch Program allows passengers with disabilities to have a yellow or green taxi dispatched to them for pickups and destinations anywhere in NYC by app, web, or phone.
The highest number of Accessible Dispatch trips provided by an honoree was 356 trips from September 2017 to August 2018.
Four honorees – Luis H. Alvarez, Kwabena Oppong, Bassirou Fall, and Kyaw Thu Ya - have been honored two years in a row for their high numbers of Accessible Dispatch trips.
Our Accessibility Leaders averaged more than 200 accessible trips each since the citywide expansion of the Accessible Dispatch Program in 2017.
Our Accessibility Leaders reside in Manhattan, Bronx, Brooklyn, Queens, and cities outside of the five boroughs: 33% live in Manhattan, 19% live in the Bronx, 14% live in Brooklyn, 14% live in Queens, and 19% live outside New York City.
Facts about 2018 Customer Service Honor Roll Drivers

TLC honored four drivers for excellent customer service. TLC received formal compliments from their passengers commending their exceptional service.
These drivers helped their passengers in a variety of ways, including assisting passengers in locating their misplaced items and providing a pleasant taxi experience.
Three of the Customer Service honorees drive yellow taxis and one honoree drives a green taxi.