The chart below lists those vehicles currently approved for use as a Taxicab and the types of medallions (Unrestricted, Alt Fuel or Accessible) that can be used with each vehicle.
The New York City Taxi and Limousine Commission (TLC) will endorse additional vehicles as new vehicles become available and conform to TLC rules and regulations. These updates will be available on this page. If you have any questions about a vehicle or retirement issue, please call the TLC hack site at (718) 267-4501.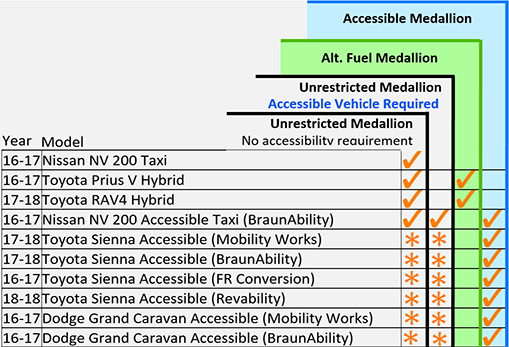 ACCESSIBILITY REQUIREMENTS: Those unrestricted medallions that are required by TLC to hack up an accessible vehicle may only hack up the Accessible Nissan NV200. Unrestricted medallion owners wishing to hack up an accessible model other than the Accessible Nissan NV200 can learn how to request a waiver here. Please note, a maximum of 496 waivers will be granted on a first come, first serve basis.
For more information on the specific criteria that the TLC Safety & Emissions Division requires for Wheelchair Accessible Vehicles, visit the Accessible Vehicle Criteria page.
For more information on the accessibility requires as well as available funding, visit the Taxicab Accessibility Information Page.